Season of the Witch
Thank you for rating this movie!
Read your review below. Ratings will be added after 24 hours.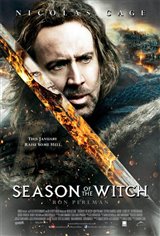 3.49 / 5
User Rating
Based on 292 votes and 102 reviews
---
Please rate movie 1 to 5 stars
Showing 1 to 50 of 102
January 11, 2012
Very predictable, felt like a thousand other movies.
August 16, 2011
This was a film that doesn't try to be new or different or god it tries to be entertaining adn it is. The acting is pretty good with Claire Foy as the standout and Nicholas Cage was his usual bland self but what are you going to do. The director Dominic Sena creates a suspensful film, even though it utilises several scenes that have been done before in better films and he adds a spark to them. The film is corny and campy adn jsut plain fun for a saturday afternoon.
August 14, 2011
Good movie, unpredictable !
July 31, 2011
Sort fell apart half way through!
July 04, 2011
Worst movie Nick has starred in. I sat down for some action packed fun with a storyline. It never happened, 1 star for the setting of the movie and one for Nick and his co star. This movie looks like it has been written in an afternoon while waiting for paint to dry. I hope his next one will be more of the old Nick.
March 17, 2011
If I could I would rate it 3.5. It was a good movie - great style, but just didn't quite get there.
March 17, 2011
Nicolas Cage. Magic. Blockbuster. A familiar combination, since Dominic Sena's Season of the Witch hits theaters only a few months after The Sorcerer's Apprentice (whose producer Jerry Bruckheimer, in the oddest of coincidences, worked with both star and director on Gone in 60 Seconds, eleven years back). While the latter was a by-numbers Disney effort (plenty of effects, a general lack of heart), Sena's latest work manages to also be quite a bit boring and occasionally ludicrous. This time, Cage doesn't play a magician, but a crusader who, having witnessed too much bloodshed, runs off to Europe with his fellow soldier and best friend (Ron Perlman). They discover a plague-ridden landscape
March 14, 2011
Excellent first fifteen minutes...then it had some good action, but wasn't amazing.
March 12, 2011
Comon, really?
March 12, 2011
Really good movie.
March 10, 2011
nice acting but Cage should look for more enticing roles to play, we get bored of repeated roles!
March 03, 2011
Great action movie.
February 28, 2011
I love Nicholas Cage.
February 26, 2011
Light fluff but still entertaining. A waste of Cage's talent though.
February 22, 2011
Incredible action and scenery. Nicolas Cage never fails to deliver.
February 20, 2011
Nic Cage does a pretty good job.
February 16, 2011
Great action movie.
February 16, 2011
Ok action movie... would only watch it on Tuesday deal though
February 14, 2011
Excellent thriller that made me jump from my seat litterally. A few good twists and turns.
February 12, 2011
Really good concept.
February 11, 2011
Great action movie.
February 10, 2011
special effects were a bit cheesy but really good movie!
February 10, 2011
Pretty good Nic Cage movie. I liked it a lot.
February 10, 2011
What a disappointment, The cast was great but the story was crappy
February 08, 2011
Great Nicholas Cage vehicle.... never ceases to amaze me how many genres he is great at. Entertaining, a great story line and excellent special effects. Recommended for entertainment value.
February 08, 2011
Love Witchcraft, Can't wait to see the Movie. Thankyou.
February 08, 2011
entertaining
February 08, 2011
good movie
February 06, 2011
Great movie!
February 04, 2011
It was good up until the last 20 minutes where they could have really made this a good move and they faaaailed.
February 02, 2011
I really enjoyed the movies and was worth watching with great action.
January 31, 2011
Good storyline but a bit over the top with reality. Good acting.
January 30, 2011
Interesting action movie.
January 29, 2011
By stars you mean smelly pieces of cheese right? Nicholas cage is the KING of cheesy movies. This one was almost as good as ghost rider!
January 28, 2011
Nice mix of comedy with such a deep plot.Not bad but not great.
January 27, 2011
Great show. Another Family outing .. We liked it...
January 27, 2011
good action and story line. different ending
January 27, 2011
Pretty good action movie.
January 27, 2011
I did not expect much from this movie and therefore the better rating. Nick almost had me believing in his character. The FX was good. (which in my books is standard) Ron makes the perfect sidekick who'd kick the butt of the "hero". Just a side note: Not very God friendly and made me think that anyone with "faith" was wasting their time. Darkness is the only power at work in this movie.... But then again I don't turn to Hollywood for Faith matters or Truth anyways.
January 27, 2011
I rated Season of the Witch with a full 5-star rating mainly do to the super action and the setting of this movie and the acting which I think is just a 5-star rating movie to be enjoyed one and all on Blue-Ray DVD when available. xxxxx
January 26, 2011
it was a realy good movie until the last 50 to 45min there it got sort of boring and not realy what i expected
January 25, 2011
Really good action movie.
January 23, 2011
This movie started out fantastic and stayed good up until the last 1/2, it felt rushed and the story became weird. I would have enjoyed it more had it stuck more with the story the previews depicted it as.
January 22, 2011
Really good movie.
January 21, 2011
We jumped out of our seats 3 times during the first 5 minutes of this film. It did calm down after that but was still enjoyable.
January 20, 2011
I would have liked to see more of the dry comedy that Nick Cage is so known for - there were places it could have fit. It was very scary for me, my husband LOVED it :) A great date movie, had me squeezing his hand the whole time :)
January 20, 2011
Good story line, However this could have been alot better, the ending was somewhat disappointing and to be blunt was cheesy. Ron perlman and Nicholas cage have great on screen chemistry. They should be in more movies together.
January 20, 2011
The cashier at the movie theater Strongly recommended that we choose another movie but we didn't and left the theater wishing we had. This movie had great potential but fell short in the end.