Stan & Ollie - User Reviews
Thank you for rating this movie!
Read your review below. Ratings will be added after 24 hours.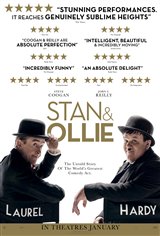 4.99 / 5
User Rating
Based on 2144 votes and 22 reviews
---
Please rate movie 1 to 5 stars
Showing 1 to 22 of 22
March 09, 2020
I very rarely give 5 stars but this film definitely deserves it! I laughed, I cried, I absolutely loved it!
February 16, 2019
This movie encompasses the marvelous meaning of life. Friendship,laughter, caring for others and dedication to your art in life. Highly recommended.
February 15, 2019
Good movie. Learned a lot about the history of these two. But not for anyone who (a) likes 3D, (b) likes James bond, mission impossible, or (c) is under the age of 50.
February 11, 2019
Sat through some pretty bad movies lately, Vice, The Favorite and Mary Queen of Scots. This one makes up for them all.
February 06, 2019
Don't miss if you're a Laurel and Hardy fan. The resemblance is uncanny as if you are watching the original duo. Very memorable.
January 31, 2019
I have seen it 10 times and will be seeing it again and I AM A BIG FAN OF LAUREL & HARDY
January 31, 2019
Great inside look at the final years of two exceptionally talented and funny actors, who were truly pioneers of classic American Cinema. Heartfelt and well acted. John C. Reilly usually makes me vomit because he is terribly unfunny, but in this he is absolutely perfect. Here's another fine mess you've gotten us into,,,,and I am so glad you did!
January 27, 2019
A truly wonderful film !
January 27, 2019
I like very much
January 26, 2019
"Not seen today often enough." That's because it's playing in so few theaters.
January 26, 2019
Great movie
January 26, 2019
A wonderful movie and great friendship. Not seen today often enough.
January 26, 2019
The best movie this year. Going to see it again. May be cloudy and cold outside, this will warm your heart.
January 26, 2019
Watch these to better appreciate the movie. Genius 1.County Hospital (1932) 2.Them Thar Hills (1934) 3.Men O' War (1929) 4.Our Wife (1931) 5.Brats (1930) 6.Be Big! (1931) 7.Any Old Port! (1932) 8.The Music Box (1932) 9.Dirty Work (1933) 10.Busy Bodies (1933) 11.Helpmates (1932) 12.Perfect Day (1929) 13.Blotto (1930) 14.Laughing Gravy (1931).
January 26, 2019
BEST MOVIE EVER......MY GRANDFATHER AND GRANDMOTHER AND I REALLY ENJOYED THIS MOVIE AND 10 STARS
January 25, 2019
Couldn't wait to see this film with my family. When difficulties arose, watching their films never failed to raise our spirits. Problem is you can't see it in Etobicoke.
January 25, 2019
A powerfully sensitive portrayal of the two man comedy team, their wives, partnership, disappointments & mostly , their love for each other on their rise to success. About 20 years ago, my son was 19 & visiting. They had reruns of L & H & I thought he'd like it. The episode coincidentally was. "The Hospital"; the same in the movie. (but shorter version in the movie). He was busting at the seems with out loud laughter. Never forget it.
January 22, 2019
Great to see Laurel & Hardy back on the big screen and 10 STARS
January 20, 2019
Loved this movie.....an Oscar contender for sure
January 19, 2019
BEST MOVIE EVER AND 10 STARS
January 19, 2019
Loved this movie.............Steve Coogan and John C.Reilly did a great job as Laurel & Hardy and TWO THUMBS UP!!!!!!!!!!
December 28, 2018
A masterpiece, like watching the real Stan and Ollie