The Last Kiss - User Reviews
Thank you for rating this movie!
Read your review below. Ratings will be added after 24 hours.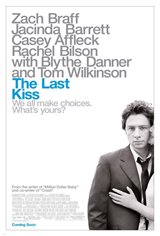 ---
Please rate movie 1 to 5 stars
Showing 1 to 40 of 40
January 11, 2007
Such a good movie!
January 05, 2007
went to watch it got Rachael Bilson . so hot!! great movie with a great soundtrack. on dvd now must rent !!
January 02, 2007
Very Cute!!
December 31, 2006
i thought this movie was very SEXUALY orentated,it gave very vauilble life lessons,on love relationships..this movie was very indullging,and very good i rate this movie a 5/5 thanks for listentening MUAH.
December 29, 2006
It was the best movie ever, rachel Bilson rock omg she is so cool
October 10, 2006
One word - EWWW! My cousin and I like fell asleep during it. WE WERE WAITING TO GET THE ** OUT OF THE MOVIE. We were begging to god, to let the movie be over. So killing. So boring.
October 02, 2006
I enjoyed the movie... but then I will definitely see all Zach Braff`s movies... I also loved him in Garden State. He`s an amazing actor.
October 01, 2006
i just found out my boyfriend cheated on me after 7 years LAST week and the while thing unravelled exactly like it did in the movie. it REALLY hit home. found it very therapeutic.
September 30, 2006
Movie was very good and most interesting. It explored many different relationships and I found that it was quite well done. Realistic and not your typical Hollywood ending. Definitely worth watching!!!
September 30, 2006
ANNOYINGLY BORING!!
September 30, 2006
what a great way to end a 2 month relationship, never thought id be dummped because of a crappy movie
September 29, 2006
I almost fell asleep >.> i was begging for the movie to be finished. But then again I`m 15. yep yep. didn`t like it but neither did my cousin who is 20.
September 28, 2006
dont listen to these negative posts, honestly an enjoyable movie. i mean not the best movie ever made but a break from dumb crap like anchorman, wedding crashers, talladega nights etc
September 28, 2006
boring
September 28, 2006
meh... don`t watch this with your girlfriend/boyfriend.. it`ll make you overthink things. SERIOUSLY. LISTEN TO ME.
September 27, 2006
I loved it. Im not usually into movies that are about love and romance, but this movie was good because it was about relationships on every different level and stage in the relationship. It shows real emotions in real situations and it is honestly one of the best movies i have ever seen.
September 26, 2006
not that good. kind-a boring in lots of places. plus not very believable.
September 23, 2006
Overall an excellent, true to life movie. I could relate to many of the characters. A few of the characters disappeared throughout the movie. Was wondering what the point of them being in it at all
September 23, 2006
DO NOT I REPEAT DO NOT SEE THIS MOVIE WITH YOUR GIRLFRIEND!!!!!!! this movie is not very good, quite boring most of the time....and all it did was make my girl starting asking questions about how i feel about her and stuff like that, this movie almost made us break upp!!
September 23, 2006
I found this movie to be on of the most depressing movies I have seen in a long time. Rachel Bison did a terrific job, her character was very believable. Actually felt her pain.
September 23, 2006
Too real , this is no date movie...it will make your girlfriend/wife ask too many scary questions after. I found it to be more of a guy flick, it will just anger girls and make them extra crazy.
September 22, 2006
A very true to life movie. Funny, sincere and well acted...go see it.
September 21, 2006
I LOVE RACHEL BILSON!
September 21, 2006
The story was good.Buuuuuuuuuuuuuuut why do most of the movies have to have the F word over and over.No wonder young people think it is cool to use it.I dont think it very cool at all and wish they would take it out of the movies along with smoking. Seem the only movies that are safe to tale pre teens to is kids movies. Eley
September 21, 2006
Awesome movie!!! Very interesting material in this one.
September 20, 2006
Awesome movie! Very realistic, and the soundtrack is amazing!
September 20, 2006
Dialog good, characters interesting, story depressing. Moral of the story: Infidelity is acceptable when confronted with the draining responsibility of a lifelong relationship. For those of you who can relate, this is the perfect movie to entertain a special someone on your path towards forgiveness. If they watch enough movies of this nature then you will on your way to marital bliss as a result of their moral desensitization.
September 20, 2006
Good movie, good moral. "Cheat cheat cheat, sit on the porch for 3 days and get over it!
September 19, 2006
Very good and pleasently surprising. Could have done just fine without the random nudity which made this movie just that "bit" not to good. The story lines are real and heartfelt. Braff is a great actor, hard to watch him in Scrubs after roles like this and his role in Garden State. Awesome movie, I was realllly into it.
September 19, 2006
Finally a movie that reflects the real life struggles people have in relationships. Excellent movie and soundtrack.
September 19, 2006
Very witty and also very sad.
September 18, 2006
This movie has made a new person out of me. I live everyday wondering why ?. Now i have a movie to relate my life 2.
September 18, 2006
I found watching this movie very tedious...especially the last scenes..couldn`t buy into this at all.
September 18, 2006
Amazing movie........... i absolutly loved it!!!!!!!!
September 17, 2006
It was so good my heart started pounding so hard because I was so into the movie. This movie has inspired me.
September 17, 2006
great movie, zach braff is a great front man
September 16, 2006
beautiful movie. perfect soundtrack, excellent actors, amazing storyline. just as well done as Garden State
September 16, 2006
Great movie...both funny and sad at the same time...Rachel Bilson is super hot...this is her break out movie!
September 15, 2006
THE LAST KISS IS HEART-FELT & HILARIOUS!!!