The Lion King - User Reviews
Thank you for rating this movie!
Read your review below. Ratings will be added after 24 hours.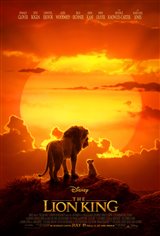 3.88 / 5
User Rating
Based on 382 votes and 120 reviews
---
Please rate movie 1 to 5 stars
Showing 1 to 50 of 120
February 03, 2020
we just got it on dvd and love it
January 29, 2020
Possibly the most hollow and cynical film ever.
November 05, 2019
Scenery, nature, an life messages, are excellent. Liked original version, better. Easier to enjoy the journey.
October 30, 2019
CGI was amazing, but it seemed like they didn't even try to be original with anything in this version. Not even the actors seemed to be able to add their own flavor to it. And the singing? Beyonce is too much of a soloist to do a duet.
October 27, 2019
Loved this movie!
October 10, 2019
was a good movie lots action with story line.few parts with little bit to much blood in a few scenes.id watch agian.
October 08, 2019
CGI was amazing. Story and voices were top-notch.
October 01, 2019
Simply amazing!
September 27, 2019
I thought it was a children's movie but as it began I was sitting on the edge of my seat. I cried so many times during this movie. It really touched my heart. I loved it!
September 25, 2019
I absolutely love this movie
September 21, 2019
An amazing movie funny and great for kids love it
September 21, 2019
Awesome movie! Incredible visual experience!
September 17, 2019
excellent animation..brought grandkids. they enjoyed it.
September 14, 2019
I loved EVERYTHING about it and couldn't stop thinking about it- can't wait to own it again
September 13, 2019
I Like This Movie better of Cartoon and Real Life Movie is The Best Year 2019 I Like It
September 13, 2019
not a big deal
September 12, 2019
Don't waist your money
September 01, 2019
Typical storyline but very enjoyable. Good family movie.
August 31, 2019
The memories we make with our children can be lived in once again long after they've grown in movies such as The Lion King. The remake is as delightful as the first edition, if not more so.
August 30, 2019
When I first saw the commercials for this movie I was thinking this movie is not gonna be very good but once I heard who was all in it I was thinking it might be better than I thought, finally got around to seeing it tonight and it was amazing! I loved it more than the original to be honest and there was so much comedy added to the film which made many people crack up in the theater, 5 out of 5 from me no doubt, will be a must own for us when it releases on 4K!
August 28, 2019
The original animated Lion King was great! The attempted realistic animals in this movie who's mouths did not match the voices was like a movie made over a hundred years ago.
August 27, 2019
My daughter and I never saw the first version of The Lion King. We loved this movie. The cinematography and the animation was amazing. We would see this movie again.
August 27, 2019
The teaching.
August 25, 2019
Shameful endorsement of lethal patriarchal and cisgender norms. The people who identify as women who like this should be particularly ashamed. Disney is run by men. There is blood on all of our hands!!!
August 23, 2019
Better than the original !!
August 21, 2019
Terribly made copycat movie
August 18, 2019
Changed the story and makes the girl the sultan not Aladdin as in the real story
August 17, 2019
Trying to copy the original was a big mistake. Should have been made starting at end of original movie and should have been animated like the original.
August 16, 2019
Loved It! The live action was cute! Almost pretty close to the original cartoon version! And the simba and nala as lion cubs were so adorable! Im going to watch it again when it comes to my town!! Its always good to get a second glance at the movie you like! Love disney! And this was by far an Awesome remake! But just Like aladdin ,scar was not as evil as the scar in the cartoon,so that made it sad! They should have picked a more evil charachter,voice and looks and all! The guys voice did not have it! Jeremy irons was the best for that part in the cartoon! :) and the " be prepared" song was way to short and changed alot of lyrics! Haha but thats all that made it sad to watch! But other then that Great Job disney!! I will be seeing this soon!! Loved it!!!!!! Shame on any haters against the disney movies! They are trying ! And not trying to impress just you! Great movie! Hoping to see tangled or tarzan as a musical remake!! ????
August 15, 2019
I really enjoyed this movie. Not as good as the original but still entertaining.
August 14, 2019
Very realistic, full of action, funny & heartwarming. Don't understand what's not like, those that give it a negative review would do the same with any movie no matter how good it is. Children may prefer the original one better but my wife and I enjoyed it very much.
August 13, 2019
To be honest I was bored. It is exactly like the animated film almost shot for shot. Will kids like it? Probably but it is sad the Disney can only come up with a remake of a previous film. What's next? Robin Hood? The rescuers? Perhaps Im being a grump but this did not work for me. Disney brought back James Earl Jones but did they run out of money for Jeremy Irons? Now he had the bad guy voice.
August 13, 2019
Animated feature still better...
August 13, 2019
We liked everything about this movie! By far one of the best ever.
August 13, 2019
Lugubrious and artificial. A cynical cash-grab from an evil corporation,
August 13, 2019
It was a wonderful movie. I might go see it again it is that good. Great for people of all ages.
August 12, 2019
I loved this movie so much! My 10 year old son, my husband, and myself saw it. My son said that it was one of the best movies he's ever seen. I was worried that it would be a bit slow in the beginning but the momentum picked up pretty quickly, and the movie flew by. This film just has so many meaningful meta-themes – and these themes are beautifully and engagingly played out from beginning to end.
August 11, 2019
The cartoon was better - I enjoyed the fact that it was so real like but for the most part the cartoon was better
August 11, 2019
I loved everything about this movie. Very good movie
August 10, 2019
I thought this was beautifully done - the animals are amazing and there was just the right amount of music and humor. There were a couple of places that would be scary for young children. I felt that it followed the plot of the play and the Disney animated version, both of which I have seen. I loved it!
August 10, 2019
It was made pretty badly. Animals are too life like. Which actually makes them very unexpressive. Disney should have thought about that. Some really bad voice acting. Particularly young simba. And scenes don't take the time to let the emotion actually happen, they just sort of rush through them. It was pretty bad.
August 09, 2019
My daughter and I went to see this movie. We used to watch the animated movie a lot when she was little, she is 21 now. We both thoroughly enjoyed it.
August 08, 2019
Awfully made movie. So bad it would take pages to bring out all the bad areas .
August 08, 2019
Beautiful and Amazing movie! Stop comparing to original! It would be a waste of money if it was exactly 100% to original. Be open minded! It is just another way of telling this amazing story. So many underlining messages about life if you pay attention.. Soundtrack music is awesome as well.
August 06, 2019
Everything
August 06, 2019
Delightful in every way. GuruBob says 96/100
August 04, 2019
Not for young children as it is scary. Seth Rogen does a terrific job. Beyounce needs to stick to singing. Her speaking voice is annoying.
August 04, 2019
Loved the digitalized version-very real- almost 3 D like. The original animated Verizon was cute & funny-great for young kids. The new version might be a bit scary for young children (under 8-9 years). The new version was very life like. Great movie-better on theater screen then DVD at home
August 04, 2019
Don't waste you money on a copy cat attempted movie remake with attempts to make realistic animals speak. Not only was this a bad idea but it looked so stupid especially when the lips moving did not match the voiced sound. The movie would have been much better if it was animated like the original and started where the original left off. But it's too late for that now as this movie has ruined the chance of that ever happening.