The Monuments Men - User Reviews
Thank you for rating this movie!
Read your review below. Ratings will be added after 24 hours.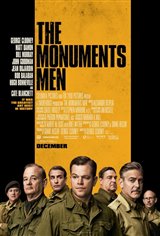 ---
Please rate movie 1 to 5 stars
Showing 1 to 30 of 30
July 18, 2018
FAV MOVIE EVER SEEN IT 7 TIMES GOING FOR 8!!!!
June 30, 2014
Not nearly as good as hoped. Great cast, and a great story, but something was missing that made the movie misfire.
June 24, 2014
Cool story, unfortunately, it did not translate into an interesting film. A bit slow. The movie never gained any momentum.
March 21, 2014
Very poor overall- never really got going-I kept thinking it would get better but it never did. All the stars in this movie should be ashamed.
March 17, 2014
Such an interesting an important story, but I must say this was painfully slow and boring. Great cast but their talent was wasted...that was script and direction (sorry George but it was flat). It's a rental.
March 07, 2014
Vanilla plot featuring unremarkable acting and a pace like molasses.
March 04, 2014
Knowing that the Monuments men was 300+ men and woman from about 35 different nations the movie made it seem yet another USA version of how they "won the war." Acting was mostly okay... John Goodman a brilliant character actor, Matt Damon capable of so much more and George well he's just in their league. Read the book to fully appreciate the risks these people took.
March 01, 2014
There seemed to be a whole lot of hollywood in this film...too bad as it could have been a real historical event for the younger generation...I guest money talks..Joannie :):):)
February 24, 2014
Poor directing, weak script. Movie had no debt. Nothing wrong with the acting per se because all the actors are veterans. Story is interesting but Clooney is no director. A guy like Spielberg would have made this a topper. I gave it a 2. Barely.
February 24, 2014
Very disappointed. I read many reviews ahead of time, which I didn't want to believe, since the subject sounded so fascinating. Humor inappropriately mixed with a serious topic, very poor casting. Save your pesos for another flick.
February 23, 2014
I talked my wife into seeing the movie, I said you will like or I wash dishes for a month. Anyone have spare rubber gloves.
February 22, 2014
Disappointment. The story behind the movie was lost on the makers of the movie. This movie had the potential of being great. However, it fell flat in the area of acting, storyline and reality. Save your money and stay home.
February 21, 2014
Excellent film
February 18, 2014
Absolutely terrible! One of the worse movies I've seen in years. Poor script and most of all, poor directing. Save your money
February 17, 2014
A wonderful story that needed to be told. This could have been an Oscar movie with the right script / great actors. The writing simply did not make them stand out.
February 15, 2014
I loved it. A slower pace, but a true story at a pace that real life reflects.
February 15, 2014
Absolutely fantastic. Good acting by all. Give credit to Clooney.
February 15, 2014
Love this movie. I read many articles and was always interested when I saw anything on the history channel.
February 14, 2014
I loved it. It is based on a true story and I learned something more about Hitler's EVIL and how bravely people worked to preserve the past. Without the past, there can be no future.....because it would be like they were never created
February 11, 2014
4 stars because of all the stars in this flick. The script was weak for a great story. This could have been a great film, but it was badly written and the acting was only so so. Those guys clearly had a party making a movie, not using their skills to make a great movie about a great story.
February 10, 2014
A slower paced 'Expendables'.
February 10, 2014
Kind of disappointing and somewhat boring. I was expecting more.
February 10, 2014
i loved it, great story!
February 10, 2014
Don't be fooled by the title, it's really OCEAN'S 14.
February 09, 2014
Couldn't wait for this to end, really poor plot development, no suspense.
February 08, 2014
This is History, this really happened, when they showed the barrels of gold from the teeth this should bring home what really happened over there. Well done enjoyed the acting.
February 08, 2014
Disappointing overall. Didn't really engage the viewer. Lots of US bravado. At least there was no bad language and no graphic violence.
February 08, 2014
Excellent, true story depiction,all the actors sharing in the portrayal, each sharing in wonderful character acting, of diverse personalities, coming together to achieve and complete a idea, a job bigger than the individual.
February 07, 2014
good acting and not a bad story line. Should have had more..
February 05, 2014
Murray's best since Spider-Man.