Top Gun: Maverick - User Reviews
Thank you for rating this movie!
Read your review below. Ratings will be added after 24 hours.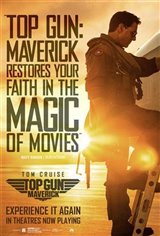 4.69 / 5
User Rating
Based on 620 votes and 185 reviews
---
Please rate movie 1 to 5 stars
Showing 151 to 185 of 185
June 01, 2022
Great movie from beginning to end. I'm ready to see it again.
June 01, 2022
I can't stand the little jerk Cruise for who he really is and it is hard to find him believable as a result. However, as it is an action movie it should do well with kids. BTW, cruise is merely a passenger sitting in the back of a jet pretending he is flying in case anyone thinks the squirt is a real pilot.
May 31, 2022
As someone who's always meant to get around to watching the original Top Gun and never has, this movie was excellent despite that. You don't need to have watched the first one to understand what's going on in this one. In fact, even without the nostalgia factor going into it, this movie still managed to hit me right in the feels. In my opinion, this movie was excellently cast, acted, and written. Very well done all the way around, was very pleased with the whole experience. I will say, I must DEFINITELY watch the first Top Gun now; this movie pretty much makes that a certainty.
May 31, 2022
A very well done movie that is thrilling and epic.
May 31, 2022
Love the movie, and the actors still Tom cruise (Maverick)!
May 31, 2022
Tom Cruise is still "Maverick" Great case and has me on the edge of my seat. Loved it.
May 31, 2022
Just a great action movie with plenty of depth to the story to balance in out.
May 30, 2022
Love the original. Sequel is top notch. Thanks to Tom Cruise for holding back release of this movie during pandemic so it would be seen in theatres. Well worth the wait.
May 30, 2022
Great plot and even better action, plus there were some really funny parts as well.
May 30, 2022
I didn't like how there was nothing ever clarified about Charlie and what happened to her. I do love how Ice Man was a good person who kept Maverick afloat and did so with quiet humbleness. I loved the movie though! I will see it again… and again… and again!
May 30, 2022
Good movie fasten your seatbelt. Suspense on edge of seat. A wee bit stressful in some scenes also funny. Tom Cruise acting very good but his best very best movie is A Few Good Men!
May 30, 2022
I loved the movie …music …action , emotional ….…story was all there !
May 30, 2022
This movie has everything: fun, action and emotional moments. Tom Cruise learnt to fly a fighter for this movie! If that´s not awesome, I don´t know what is.
May 30, 2022
I was not only on the edge of my seat during most of the movie but I also probably bruised my husband's arm when I was hanging on to it so often! I would see it again!
May 30, 2022
Was great it tied enough of the original in without leaving people who hadn't seen the original lost.
May 30, 2022
In the short lisa of sequels better than the originals, Top Gun Maverick jumps onto and likely the top if the list. Hey look, a non-Superhero flick that is damn good heart-stopping fun. What's more impressive is the lack of CGI!
May 30, 2022
Great from beginning to end. Special effect are incredibles. Great acting! Tom Cruise at his best. Very thoughtful beginning to connect you with the new story. Wow, those exciting scenes in the air really kept you high! We need another one!!! Will watch it again.
May 30, 2022
This movie is what we all were waiting for. It comes full circle in many aspects. All the actor's and actresses helped make it what it is. Wonderful fast paced flying for those who enjoy it. Don't let this movie pass, go see it! (Watched with D Box!)
May 29, 2022
a fun movie to watch
May 29, 2022
Fantastic! Keeps you on the edge of your seat. Special effects beyond incredible. I've seen a ton of movies and I rate this as one of the best I have ever seen! I rarely see a movie at the theater more than once but I'm going to see this one again.
May 29, 2022
Loved this movie and the amazing story behind its creation, go and see it you won't be dissappointed!!!
May 28, 2022
Lots of suspense and action!! Loved the movie!!
May 28, 2022
One of the rare times that I'll say the sequel is better then the original. I loved every minute of it and the flying screens are incredible.
May 28, 2022
Good, but the cast doesn't have the same appeal as the original Top Gun. Some great mid-air action shots, but the scenes on the ground tend to drag. The romance felt very tacked-on.
May 28, 2022
Love the story line the jets and filming was AMAZING! Went and saw on the IMAX screen so it was even better!! We will be going to see it again asap
May 27, 2022
Very similar to the first top gun . Good story line . The best part was the jets and the way they were filmed , which was an upgrade from the first flick . Probably would be awesome on the IMAX screen .
May 27, 2022
Great acting, suspense, thrills, exciting flying , and s great story
May 27, 2022
Great movie in all aspects....a must see maybe twice
May 27, 2022
The storyline of the movie is very believable, sound, well connected to the first, making the movie more fulsome than just the way the movie was filmed. Solid movie, saw it on IMAX. Will go see it again!!
May 27, 2022
This is the best movie I've seen this year. Lots of action, solid plot, great acting done with jets. Finally, a great Hollywood movie. About time. Thank you Tom and Jerry for such an awesome movie. No social messaging was refreshing. #supportjohnny.
May 26, 2022
Not particularly a Tom Cruise fan but he really reeled me in for this one! No one else by TC could have done this movie. Exciting from beginning to end and the scene with Val Kilmer's character added just the right touch of emotion needed by the movie. Excellent movie from start to finish. Wow, those exciting scenes in the air really kept you high! Count me in as a TC fan now.
May 26, 2022
As good a Sequel as it gets. Fun, Exciting, Touching!!!!!
May 26, 2022
I am the most unlikely person to have enjoyed this film, but I am now its greatest promoter! I'm a bit squeamish about sequels to iconic films as they often do not remotely measure up. Enter Top Gun:Maverick! Smart, exhilarating, exciting, emotional, heart warming, funny and "feel good". Perfectly cast. Well done Tom Cruise, Miles Teller, Jennifer Connelly, Val Kilmer. Excited to see it again with hubby!
May 25, 2022
Excellent movie! Had me on the edge on my seat! Action through out! Check it out! You will love it!
August 08, 2019
THE NEW TOP GUN MAVERICK MOVIE PREMIERE AND IS GOOD AND VERY GOOD AND I WANT TO SEE THE SECOND ONE AGAINS AND AGAINS AND THANKYOU VERY MUCH.