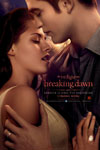 Bella's (Kristen Stewart) parents give her a Swan family heirloom before her wedding to Edward (Robert Pattinson).
The Twilight Saga: Breaking Dawn - Part 1 opens November 18.
More clips:
"Weddings Bring Everyone Together"
"Vows"
"Don't Take Too Long, Mrs. Cullen"
"I'm Late"
"Jacob Tells the Cullens"
"We Need More Blood"
Share this story:
You Might Also Like:
Comments