Moneyball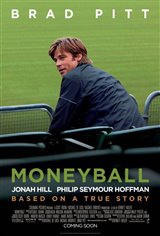 | 774 votes and 200 Reviews
Write a Review
Release Date:
DVD: January 10, 2012
Netflix: March 1, 2020
2h 14m | Drama
---
Oakland A's general manager Billy Beane (Brad Pitt) wakes up one morning to a harsh new reality: the team he carefully constructed is about to be gutted. His star reliever, best starter and offensive leader are fleeing to teams that offer more money. His best position player is going to the Yankees, who just beat the A's in the postseason. Beane scrambles to field a credible team, but his owner won't raise his budget and his scouting staff is stuck in the past.
During a meeting with the Cleveland Indians, Beane notices their GM paying careful attention to the opinions of one Peter Brand (Jonah Hill), a chubby young statistics nerd who's brilliant with comput­ers and spreadsheets. Brand has developed a radical new system whereby players aren't evaluated in the traditional way, a system Beane enthusiastically adopts—a system they dub "moneyball."
---