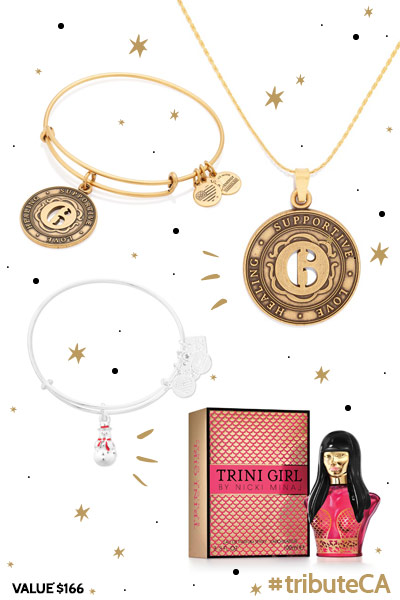 Today, it's a prize pack for the lovely ladies. For a lil' bit of bling and a whole lot of charm, ALEX AND ANI brings glam to your look with their Numerology collection. Each number is custom to your blueprint, reflects your personality and is connected to your name and birth date. Comprised solely of numerals 1-9, 11, 22, and 33, the collection is a reflection of your soul number. You can go on the site and calculate it.
We are giving one lucky winner a Numerology Pendant, $46 CDN, and a Numerology Bangle, $34 CDN. So you can wear your lucky number and flaunt it. In addition to this, we are also giving away an adorable Snowman Charm Bangle, $46 CDN. This frosty charm will melt anyone's heart and keep the season's greetings alive.
And last, but certainly not the least, is the new Nicki Minaj perfume titled Trini Girl, an homage to the rapper's Trinidadian roots. This scent is a cocktail of Trinidadian Chaconia blossoms and juicy fruits leaving a lingering coconut and white musk scent behind. This 50ml bottle is valued at $39.99 CDN.
The total value of today's giveaway is $166 CDN. If you'd like to win this prize pack, leave a comment below with your full name to tell us your favorite jewelry piece from the ALEX AND ANI collection.
Congrats to Jill Howe who won this prize pack!