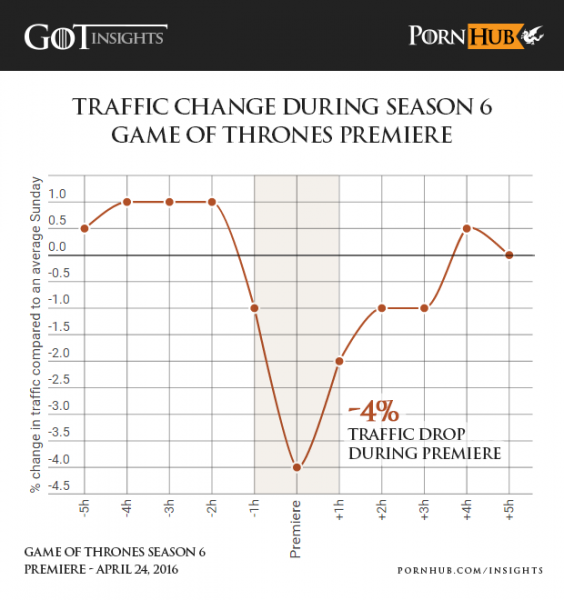 Game of Thrones attracts a deeply diverse viewership, and apparently the demographic includes a subset of particularly charged individuals: pornography fans.
During the highly anticipated season six premiere of GOT Sunday evening, the hotly popular website Pornhub registered a four percent dip in hits. That's no small figure for a site that records up to 60 million visits daily and holds the title of world's largest adult video website.
Last year, it seduced enough viewers to reach 21 billion visits, making it the 65th most viewed site.
Pornhub routinely experiences a decrease in traffic over holidays such as Christmas, when people are enjoying the company of others as opposed to themselves, but rarely does it have to compete with shows about dwarves and dragons for attention.
At first glance, this decline in viewership may seem puzzling. But given the steamy, sexy nature of GOT, and the abundance of nudity featured in the show, this downturn is slightly more explicable.
It's even more understandable when one considers that the term Game of Thrones is frequently plugged into Pornhub's search tab.
The second episode of the sixth season hits HBO Sunday.
~Matthew Pariselli