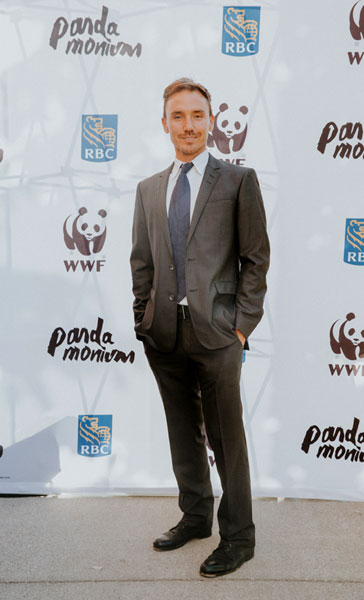 World Wildlife Fund Canada held their first ever Pandamonium party last night at Andrew Richard Designs in Toronto.
David Miller, president and CEO of WWF Canada discussed the need for fundraisers such as this, saying, "Since the 1970s, our planet's wildlife populations have declined by 52 percent. But environmental organizations receive less than 3 percent of all charitable donations in Canada. So this fundraiser is a critical part of our efforts to deliver on our conservation goals."
Visionaries, trendsetters and other supporters joined for a wild night of philanthropy and fun, including a live performance from Juno Award-winning indie folk-rock group The Strumbellas, an immersive multimedia experience by Moment Factory, food stations by top chefs, complimentary drinks and more.
Les Stroud, the creator and star of the Discovery series Survivorman and award-winning director Rob Stewart were there to show their support. Stewart (pictured at left) commented, "Nature is our life support system, and it's the challenge of our generation to save it, to save us."
He's currently in production for the followup to his hit film Sharkwater, titled Sharkwater: Extinction. He's launched a Kickstarter campaign in order to get the film released as soon as possible to save the lives of 80 million sharks who go missing each year and end up in cosmetics, pet food, fertilizer, livestock feed and even fast food sandwiches.
Click here to be a part of the campaign and have access to exclusive perks, like a backers-only T-shirt, a dive adventure with Rob, a thank you in the credits, an Executive Producer credit and more!