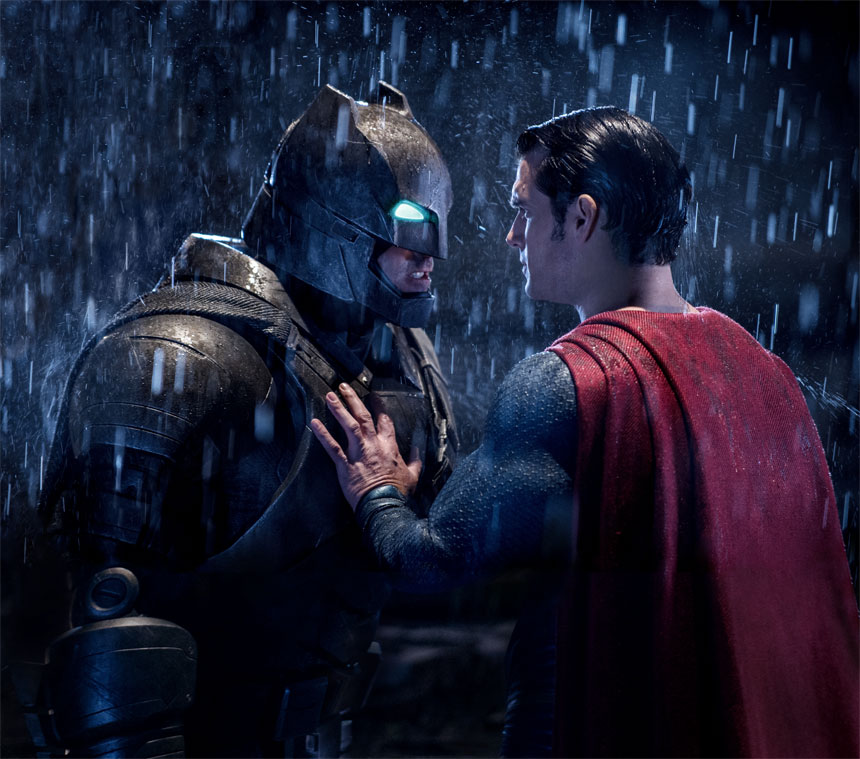 After all the excitement and hype, the long-awaited battle between Batman and Superman is finally here in Zack Snyder's Batman v Superman: Dawn of Justice. The action-packed film dishes a superhero treat for DC Comic fans and movie lovers alike.
The film picks up from the Man of Steel climax where Superman (Henry Cavill) was caught in the heat of the moment battling General Zod, but now the focus is on the casualties as a result of the battle. Buildings are destroyed and many are killed. Bruce Wayne (Ben Affleck) is livid at the destruction and tries to save people, including a young girl, who witnessed a building crumble to the ground with her mother in it.
The next scene further builds on the collateral damage Superman seems to leave behind. Lois Lane, Superman's better human half, is in Africa doing her job as a journalist until things turn sour and she is captured. In flies Superman, but as he saves her, he can't stop the bad guys from killing other people.
These events seem to give the Senate reasonable doubt as to Superman's culpability in the unfortunate deaths of innocents. They believe he is responsible for all the chaos and destruction, despite his efforts to save lives. The big question is, "At what cost?" The statement, "People hate what they don't understand" rings true at this point. Hearings are held and testimonies are made against Superman. They're afraid he has the power to wipe out the entire human race.
The infamous Lex Luthor (Jesse Eisenberg), who you know as the manic villain, questions such godly power and relishes in the idea of destroying Superman. He claims that one can either be all powerful or all good, but not both. He has a few back-door dealings with the council. He manages to talk his way into getting access to the Kryptonian ship and General Zod's body for experiments.
Batman shares the same feelings about Superman's collateral damage and fears the body count might be increasing. While trying to find a solution to Superman, Batman is also involved in putting criminals in their place by branding them with his favorite bat symbol. His ruthlessness and willingness to inflict pain simply makes his method of dealing with injustice an unbearable idea for Superman.
At a party held at Lex Luthor's house, he gets a kick out of Bruce Wayne finally being introduced to Clark Kent. This was one of my favorite scenes as the bratty Lex finds a way to lighten the mood as always. It's at this party that we are also introduced to Diana Prince (Gal Gadot), better known as Wonder Woman. She and Bruce Wayne have chemistry that is not fully developed, but nevertheless, sparks fly.
There's an interesting plot line that reveals why the Man of Steel goes head to head with the Caped Crusader. The two superheroes battle it out in a very cinematic, action packed sequence and let's just say, the wait was worth the watch.
There are a number of other plots being developed throughout the movie, which get a bit too much to follow in the 2.5 hour time frame, but Lex is secretly working away on his own villain to bring the superheroes to their knees.
Zack Snyder has carefully woven together brilliant plot twists and the idea of two superheroes battling it out has gotten everyone excited, this being the first live-action film to pit these two comic book icons against each other. The film is also a backdoor into the upcoming DC franchise films so we are given a glimpse of Aquaman (Jason Momoa), The Flash (Ezra Miller) and Cyborg (Ray Fisher).
Ben Affleck gives his own polish to the Batman character and I think he did it justice. He portrayed Bruce Wayne's conflicted state while serving ruthlessness in his act of cleaning up the city. Henry Cavill showed a softer side while showing his distress at how Metropolis feels about his actions. Henry masters the role of the Man of Steel and it was a delight to watch him don the red cape again. Lois Lane (Amy Adams) and Wonder Woman, albeit with less screen time, played their roles to the tee. They were credible and lent support to the superhero team in true spirit. I'm looking forward to the solo Wonder Woman film coming June 2017.
Jesse Eisenberg was a particular highlight for me. Being a fan of the actor, I was excited to see where he would take the character. I think he was perfect as the psychotic villain. He carefully brought to life a menacing, eccentric character who had no limitations. He portrayed iconic Lex Luthor in a way we have never seen before. He did not overdo it and he added a bit of humor to the chaos unfolding around him. In his own way, he was almost as good as Heath Ledger in The Dark Knight. There, I said it.
The film, however, did have a few flaws. There was a lot going on. As good as the plots were, they were not fully developed, as it probably required more than 2.5 hours. Each superhero comes from his own universe and therefore has his own film. Combining the two does mean it would require condensing. In addition, Wonder Woman needed more screen time, but her presence was welcome.
Other than that, from a simple movie lover who has seen a handful of DC films, I enjoyed it. I geeked out watching these two caped comic book icons in one film. It was better than I expected and the cinematic experience was masterful. Some may love it, others might not, but I think Zack Snyder did the comic-verse justice in a superb way.
~Marriska Fernandes