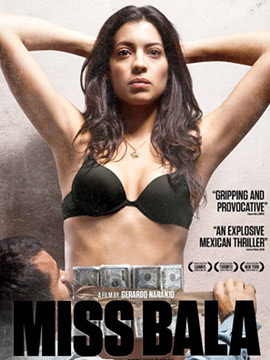 Mexican beauty pageant queen María Susana Flores Gámez, 20, was killed in a shootout between soldiers and an alleged gang of drug traffickers.
The scene is reminiscent of the 2012 movie Miss Bala (which means bullet), about a state beauty pageant contestant who witnesses a massacre and winds up getting involved with drug runners, who help her get ahead in the pageant world.
The film was inspired by the true-life story of a beauty pageant contestant who was arrested with members of the mob. Gámez's body was found next to an assault rifle but it's not clear if she shot the gun.
State prosecutor Marco Antonio Higuera said, "She was with the gang of criminals, but we cannot say whether she participated in the shootout. That's what we're going to have to investigate."
Gámez was voted the 2012 Woman of Sinaloa last February and in June, competed in a bigger competition, Our Beauty Sinaloa, but didn't win. Our Beauty state winners compete for the title of Miss Mexico. This is believed to be the third time a beauty queen or pageant contestant has been linked to Mexico's violent drug gangs.