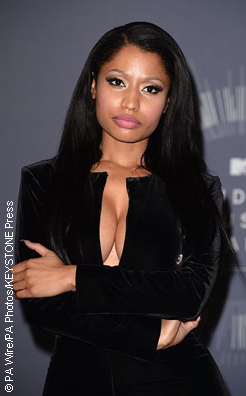 'Twas a night of big stars and even bigger booty-shaking at the MTV Video Music Awards Sunday evening. Nicky Minaj, the epitome of class, opened the ceremony, which was held at The Forum in Inglewood, CA last night, with a jungle-themed performance of her new song, Anaconda, turning heads and taking over twerking duties from Miley Cyrus this year.
As for the former Disney star-turned rabble-rouser, Miley also garnered attention, but for more charitable reasons. After winning "Best Video of the Year" for Wrecking Ball, Miley chose to pull a Brando, or a reverse Kanye, and gave the stage over to Jesse, a representative of homeless youth, to speak in her place: "I am accepting this award on behalf of the 1.6 million runaways and homeless youth in the United States who are starving, lost and scared for their lives right now. I know this because I am one of these people. Though I may have been invisible to you in the streets, I have a lot of the same dreams that brought many of you here tonight." Miley, who blinked enough times to convince us she was sincerely crying, looked on from her seat near the stage.
Even though she lost "Video of the Year" to Miley, it was Queen B, Beyoncé Knowles, who reigned supreme last night. Leading the competition with eight nominations, Mrs. Carter walked home a winner with four awards (more than any nominee) for her music, including the Michael Jackson Video Vanguard Award, MTV's answer to the Lifetime Achievement Award. She closed the ceremony with a 20-minute performance that left her in tears of joy as her proud husband, Jay-Z, and daughter, Blue Ivy, joined her on-stage. "I have nothing to say but I am filled with so much gratitude," said the pop star.
Also among the winners was Lorde, who received the "Best Rock" award for her song, Royals. "This is really crazy and I'm super grateful, " said the 17-year-old New Zealand singer. Dark Horse (ft. Juice J) earned Katy Perry a "Best Female" singer award and Sing (ft. Pharrell Williams) won Ed Sheeran the "Best Male" singer award.
Here's a full list of all the winners from last night:
MICHAEL JACKSON VIDEO VANGUARD AWARD
Beyoncé
VIDEO OF THE YEAR
Miley Cyrus – "Wrecking Ball"
BEST ROCK
Lorde – "Royals"
BEST HIP HOP
Drake ft. Majid Jordan – "Hold On (We're Going Home)"
BEST POP
Ariana Grande ft. Iggy Azalea – "Problem"
BEST LYRIC
5 Seconds of Summer – "Don't Stop"
BEST COLLABORATION
Beyoncé ft. Jay Z – "Drunk in Love"
BEST MALE
Ed Sheeran ft. Pharrell – "Sing"
BEST FEMALE
Katy Perry ft. Juicy J – "Dark Horse"
MTV ARTIST TO WATCH
Fifth Harmony – "Miss Movin On"
MTV CLUBLAND AWARD
Zedd ft. Hayley Williams – "Stay the Night"
BEST VIDEO WITH A SOCIAL MESSAGE
Beyoncé – "Pretty Hurts"
BEST DIRECTION
DJ Snake & Lil Jon – "Turn Down for What"
BEST CINEMATOGRAPHY
Beyoncé – "Pretty Hurts"
BEST EDITING
Eminem – "Rap God"
BEST CHOREOGRAPHY
Sia – "Chandelier"
BEST ART DIRECTION
Arcade Fire – "Reflektor"
BEST VISUAL EFFECTS
OK Go – "The Writing's On the Wall"
~Daniel Horowitz