Bitter Harvest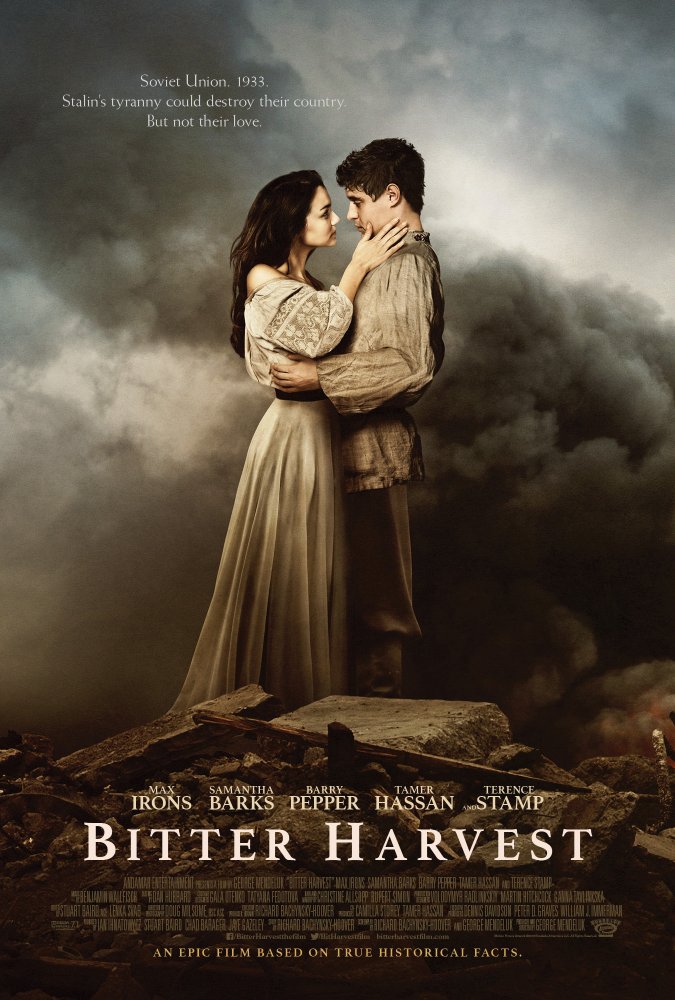 tells a story set within the real life Holodomor that took place in the early 1930s. Reminiscent of the Holocaust, Bitter Harvest is about the forced starvation and mass genocide of the Ukrainian people by the Soviets.
The movie begins innocently — a boy named Yuri (played as an adult by Max Irons) and a girl named Natalka (played as an adult by Samantha Barks) have been in love since before they can remember. When they come into adulthood, Yuri wants to marry Natalka.
This takes place during many changes in the Ukraine. When Lenin dies at the beginning of the film, the Ukrainian people hope it means better times ahead, but he's replaced by the ruthless and cruel dictator Joseph Stalin, who orders the Ukrainian borders closed in an effort to stop the rise of Ukranian nationalism. Hoping to starve the Ukrainian people into submission, he orders soldiers to remove all the grain and other food that the farmers have grown, leaving nothing behind.
Yuri, an artist whose father is killed by soldiers, goes to Kiev, where he has a job as a factory worker so he can send home money to support his family. He hopes to have Natalka, who stayed behind due to family obligations, come join him soon. However, he sees much suffering in Kiev as well and finally has to join the fight against the Soviets in order to save his people.
This is a fascinating story, and one many people don't know about. In fact, the Soviets denied the Holomodor until 1991, when it was finally revealed that seven to 10 million people died during the forced starvation.
The movie, filmed on location in Ukraine, is told in a thoughtful and even at times, beautiful fashion, with bucolic shots of horses frolicking and children playing, before it takes on a more serious tone. Although the message is a tough one to take in, as with the Holocaust, it's important to remember atrocities such as this so such things are never repeated. Director George Mendeluk and writer Richard Bachynsky-Hoover have done an incredible job in bringing this story to public attention.
Max Irons, who has proven his acting skill and ability to take on emotional roles in movies such as The Riot Club and The Host, gets even more to sink his teeth into here (pardon the pun).
As a young struggling artist with strong family ties and an even stronger tie to the woman he loves, Irons gives the best performance of his career to date. Samantha Barks, whom you may remember from her breakthrough performance as Eponine in the award-winning movie Les Misérables, is an ideal match for Irons. They both inhabit their roles with depth and emotion.
The supporting cast is also excellent, including Terence Stamp as the at-times weary but still full-of-fight grandfather and Tamer Hassan as the cruel villain who invades Yuri's village, killing many innocent townsfolk in his path.
A special shout out to young actor Jack Hollington, who appears onscreen towards the end of the film as an orphan named Lubko, bringing with him a breath of fresh life and hope for the future to what is otherwise a bleak story.
Bitter Harvest opens in Toronto, Montreal, Calgary, Edmonton, Winnipeg, Saskatoon, Halifax, Regina and Ottawa today. If you've seen it and would like to rate and/or review it, please click here. ~Alexandra Heilbron