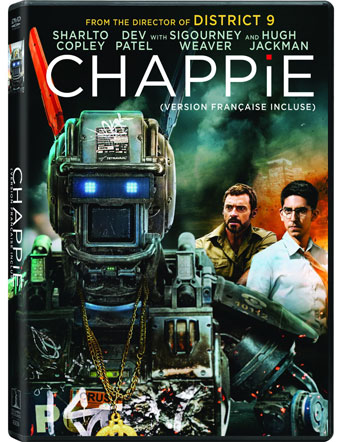 Chappie takes you into the near future in the city of Johannesburg where crime is reduced significantly due to a fleet of police robots. The Scouts are the choice robot at the police department, thanks to engineer Deon Wilson (Dev Patel) who wrote the code for them.
When a gang of criminals decides to fight back, Scout #22 is damaged and sent away for scrap. Deon is a genius engineer on the brink of creating robots who can think and feel for themselves. After being denied permission to test his new artificial intelligence code on the existing robots, he steals Scout #22 from the scrap room as a test subject and escapes in a van. En route, a gang of criminals kidnap Deon and, when they notice Scout#22 in the van, they force him to create a robot that will work for them and help them in their pre-planned heist.
Deon uses this opportunity to test his code and hence, Chappie is born. Like a five-year old child with a quest to learn new things and imitate the adults, Chappie learns from what he sees. The criminals teach him their way of living and even give him a makeover. Deon struggles to teach Chappie right from wrong.
At the same time, Vincent Moore (Hugh Jackman), Deon's competitor, is desperate to make his Moose program a hit instead of Deon's successful Scouts. He follows Deon one day and is appalled by the sight of Chappie, who now challenges the status quo.
Neill Blomkamp continues to explore futuristic films that pose the question of artificial intelligence in society. Chappie is an interesting take on an almost-human robot who views the world through the eyes of a child. But could Chappie turn around and become a danger to mankind despite the fact that he has a conscience?
Dev Patel certainly does the film justice as he plays a compassionate and intelligent engineer who feels paternal instinct towards Chappie. Sharlto Copley masters the voice of Chappie while Hugh Jackman, for his part, plays the villain to a T. Sci-fi lovers who enjoyed Elysium and/or District 9 will welcome Chappie.
DVD features include We are Tetravaal – the cast discuss their characters and experiences working on the film. ~Marriska Fernandes
Also releasing on DVD this week: Run All Night, Unfinished Business, The Lazarus Effect, Beyond the Reach and Bravetown.
Watch the trailers:
Chappie
Run All Night
Unfinished Business
The Lazarus Effect
Beyond the Reach
Bravetown