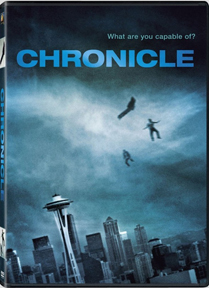 Chronicle takes a familiar format and reinvents it to create a gripping character-driven tale. With Project X still cracking up moviegoers and Paranormal Activity 4 scheduled to terrify viewers this October, it seems 2012 is becoming the year of the found-footage phenomenon. However, what sets Chronicle apart from other films in the genre popularized by fright-flicks like The Blair Witch Project and Cloverfield, is a story centered on complex characters.
From the opening frame, it's clear the film's protagonist (or antagonist depending on how you perceive him) Andrew Detmer has a hard life. His alcoholic father routinely beats and verbally abuses him; his mother is slowly dying of an unnamed illness; he's bullied and disrespected by classmates, draining his self-confidence and forcing him to spend his days barricaded inside his bedroom. When his cousin and only friend Matt convinces him to go to a party, the two of them, as well as high school golden boy Steve, come across a mysterious tunnel that grants them superhuman abilities.
At first, they use their newfound powers for small things but as their abilities strengthen, the power becomes too much for Andrew to handle as he discovers how to use it to his advantage. What really works for Chronicle is its ability to make the viewer feel for these characters. All three of the main actors do a fantastic job at layering their characters to transcend the "popular jock" and "nerdy outcast" labels. Dane DeHaan as Andrew in particular does a good job at earning sympathy, so much so that even when his character transforms into the villain the film is building towards, it's hard not to feel for him.
Like many films in the genre, where Chronicle falls short is its ability to justify its characters filming their every movement. Instead of giving the camera a purpose, we're just expected to believe Andrew is a strange individual who chooses to record all hours of the day. Scenes in which the character is flying through the air holding a camera are particularly hard to swallow but security cameras and other methods are utilized for scenes in which Andrew's camera isn't necessary.
Make no mistake, this isn't a family-friendly superhero film. Several scenes, including the parental abuse ones, are disturbing and difficult to watch, even for adults. The final 20 minutes of the drama become increasingly dark but if you can stomach unsettling material, Chronicle is a powerful film that will likely stay with you long past the ending credits. ~Kyle Sharp
Chronicle is available on DVD and Blu-ray on Tuesday, May 15, 2012. Releasing today are Underworld Awakening, The Vow, Birdsong, Mother's Day, Tim and Eric's Billion Dollar Movie and Love's Everlasting Courage.