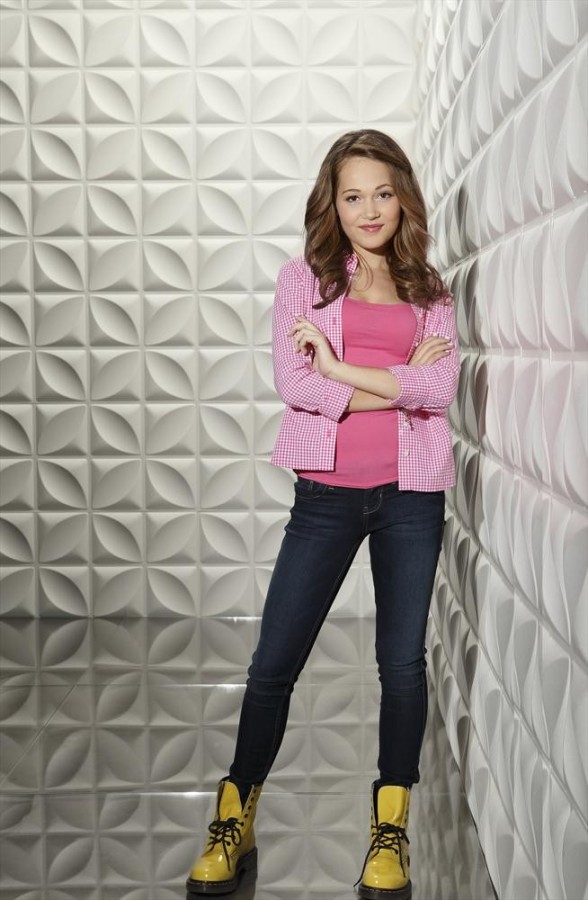 At only 18, Kelli Berglund has starred in three seasons of the popular Disney XD TV series, Lab Rats, and will now star in the  Disney Channel movie How to Build a Better Boy. The movie was filmed in Toronto and premieres on Family Channel on August 15. In the movie, Kelli stars as Mae Hartley, a nerdy high school student who wishes she had the perfect life and a perfect boyfriend. With the help of her best friend Gabby, played by China Anne McClain, she creates a perfect virtual boyfriend, Albert, played by Canadian Marshall Williams. But the results are more than they can handle. Gulp! Tribute sat down with Kelli to discuss the role in the movie, her career aspirations and how she would build a perfect boyfriend!
How To Build A Better Boy is your first big starring role in a Disney movie. So what was that experience like?
It was honestly such an amazing experience. I have been dying to do a role like this and experience what it's like to film a movie as opposed to a TV show. I was able to do exactly that with this movie and it was kind of cool to jump from TV to film and see what it was all like because a film is very different. The days are a lot longer. It takes a lot of hard work but I was willing to do it and I think it paid off and I'm really happy with the whole experience.
How different was the experience from filming a Disney TV series?
The days are a lot longer because, with a television show, we have to film an entire episode in two days. So we're used to being on a tight schedule where things are done really quickly. But with a movie, we could be filming just one scene the entire day and that's why it took six weeks to film this movie. So I just have to get used to hurrying up and waiting, a lot of the time. This is also very different subject material than Lab Rats. Lab Rats is very fun and kid-friendly, jokes here and there, whereas this film definitely has some heavier moments in it and more emotional moments so it was fun to be able to do that as well.
Tell us about your role in the movie?
I play Mae Hartley, she's a sophomore in high school and she has a best friend, Gabby. Both of them are really intelligent girls and it isolates them a little bit. People make fun of them, since they're so smart, and Mae develops insecurities because of that. So since she's too shy to go out and do what she actually wants to do, because she is a dreamer and she dreams about having a perfect life and having a perfect boyfriend, her best friend helps her create a virtual boy on the computer. When it ends up coming to life, she learns a lesson. Everything she always wanted, she ends up getting, and then she realizes that these things that she thought she wanted aren't really true and they aren't bringing her true happiness and they're taking away from the things that do bring her happiness. So she does learn a lesson by the end of the movie.
How similar or different are you from your character?
I like to think I'm pretty similar to Mae. She's very tech-savvy and I think I'm pretty tech-savvy as well. I went to a technology school when I was growing up in elementary school, so, instead of doing essays, we had to turn in PowerPoint presentations. So I learned to work with computers at a very young age and it's really helped me throughout my whole life. Now I never have to read the directions for anything technological. I just kind of figure it out on my own. I guess I'm pretty similar to her in that sense but I guess we're different in the way that we all have our insecurities and I have mine as well but I think Mae is kind of hard on herself and she lets it get to her whereas I try not to let my insecurities get the best of me. I just try to improve them and help them with my growth as a person so I think Mae can work on that a little bit.
What's your favorite scene in the movie?
My favorite scene is definitely the homecoming scene. I don't want to give away what exactly happens,
but there's a scene where I share this really emotional and and heartfelt moment with Albert the Robot. And it's kind of that moment where my character comes to the realization that she misses having her best friend and wants a real friendship and she wants real things in her life. It was a really nice scene to film and we all got really into the moment and it was very dramatic. It's my favorite scene in the film.
If you could really build a boy, what traits would be on your list?
He would have to be funny because I couldn't date someone who wasn't funny and couldn't make me laugh. Also I'd like someone who is very trustworthy and loyal, obviously, because that's the basis of any relationship, and a good relationship. I think one of the last traits would be someone who is confident in themselves without being too conceited. They can laugh at themselves and don't take themselves too seriously but yet they are very driven and passionate about what they do while still being goofy and funny at the same time.
Who would you say is your current celebrity crush?
Oh, there's a couple. Definitely Zac Efron and Liam Hemsworth. But I am a big fan of Harry Styles too.
There are many Disney stars who are now quite famous like Miley Cyrus, Selena Gomez, Demi Lovato. Who do you aspire to be like?
I really aspire to kind of follow in the same path of Selena Gomez. I really admire her for her acting. I think she's so talented as an actress and I really love how she's also ventured into doing music as well. She went on a full on tour and she was just juggling so much at once but she still manages to have a good head on her shoulders. I've actually met her a couple times because the crew who films my show actually films Wizards of Waverley Place so she'll come back and visit the crew sometimes. She's always been so sweet to me every time that I meet her and I think she's setting a really good example, not only for people like me, but just for kids in general. So I'd probably have to choose her.
Lab Rats has a huge fan following. What would you advise your young fans who want to get into acting?
My advice to anyone who wants to get into the business is to remain positive because I learned at a very young age that you will go on hundreds of auditions in this business and you will only book about one out of every 200 if you're lucky. It's usually not an overnight thing. I started acting when I was nine years old but I wasn't on Lab Rats until I was 14, so it took five years before I hit my big break, you could say. What I've found is that if you give 110% effort into whatever you do and you're very driven, then the odds are out of your hands. You've done everything you could possibly have done to have it work out in your favor, but a lot of the time it will come down to they wanted a certain hair color or they wanted a certain height and you can't really do anything about that. So everything happens for a reason and if the role that you really want doesn't work out right now, there's a better role waiting for you and that can apply to not only acting. If someone who loves to play a certain sport or wants to pursue a career being a doctor, then always give 110% effort and good things will happen, I promise.
That's amazing advice! You seem to have everything planned so where do you see yourself in the next 5 years, then?
On the big screen, for sure. I would love to start doing feature films. Hopefully, by that time, Lab Rats will be finished up and maybe I'll do some more work with Disney but I really see myself doing some more dramatic roles, even like some action films on the big screen and doing those emotional characters that take a lot of effort. I really, really see myself doing that.
Is there any role on screen that you would have loved to do?
A role that's actually inspired me is Scarlett Johansson's role in The Avengers, the role of Black Widow. I like to compare her and my character, Bree, on Lab Rats, because they're both the only girls on a team of super-heroes and they have superpowers but, even though they can come off sweet and girly, they totally kick butt at the same time. So that's actually been really inspiring to me and I could totally see myself doing a role like that may when I'm older.
What's next for you?
As of now, How To Build A Better Boy premieres today in the U.S. and in Canada. I go back to filming season 4 of Lab Rats in October and then after that, I'm actually going to Canada for a week to film this little segment called Grizzly Cabin. It's basically this wilderness challenge for kids and I'm co-hosting it and I did it last year. So I'll be doing it again in September.
How to Build a Better Boy debuts Friday, August 15 at 8 p.m. ET/PT on Family Channel. ~Marriska Fernandes