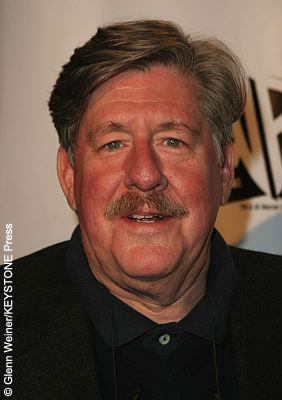 Distinguished actor Edward Herrmann, whose impressive career spans more than 30 years in theater, films and television, is perhaps best known for his role as Richard Gilmore on the long-running TV series Gilmore Girls. In the new DVD Treasure Buddies, he plays the role of the dignified but hilariously villainous Dr. Philip Wellington, who carries around his equally villainous cat, Ubasti, whose diabolical plan includes getting cats to replace dogs as "Man's best friend." Tribute spoke with Mr. Herrmann about getting the chance to play a villain and what it was like working with all the different animals on this new DVD.
What was it about this script that made you decide to take the role?
Herrmann: Well, he was a villain and I don't get a chance to play villains, and he was an English villain, and I don't get a chance to use my English accent very often and he gets to fence in a pyramid in a tomb, and all of this appealed to me. Plus, the animals actually. Working with a monkey and a cat and all that. And making a movie for kids — I like that.
Do you have children in the age range that would enjoy the movie?
Herrmann: I have a 15-year-old who's very sophisticated and I thought she'd disapprove of me making a movie like this, but she said, "Oh, a Buddies movie! Oh Dad, that's great!" And she suddenly was not 15 anymore and sophisticated and going on 30; she was seven. These movies have a wonderful effect on kids so I was very pleased to do it.
You were very funny as a villain in this!
Herrmann: Well, you know, humor is not far from my vocabulary.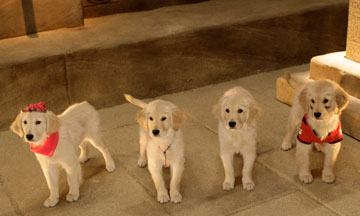 The Air Bud films have come a long way from the first one in 1997. Have you seen any of the previous installments?
Herrmann: I looked at the first one just to get the tone of it and I don't think they've altered their basic mission statement. I think they're consistent and they're charming and they're good for kids. And it's wonderful that you don't have to explain something to the children that's uncomfortable for them.
Air Bud was filmed in British Columbia — was this one filmed in Canada as well?
Herrmann: Yes, it was filmed in Vancouver. We had a Moroccan Director of Photography and they came within an inch of going to Morocco to shoot and I thought "Oh, now that would be really great." Then of course, financial constraints and it was mainly, not even that, it was taking the dogs. It's really hard to train a puppy and the dogs grow up so fast that you have to use two or three sets during the course of shooting. So the long and the short of it is we shot it in Vancouver where naturally, "It's in Egypt? Let's go to Vancouver!"
You didn't have too many scenes with the puppies, right?
Herrmann: No, I was lucky in that regard. I was warned that it could be difficult because they don't behave and this that and the other. They're adorable creatures but I had a cat, I had the hairless cat that I fell in love with.
Really?
Herrmann: Oh yeah, they're so smart. And once you treat them as if you know what you're doing, they don't want to get off your arm. I would sometimes take the cat when the trainer asked me "Can I take the cat from you?" and I said [reluctantly] "Well, if you need it." So the cat would stay with me instead of going to the trailer so he [the trainer] could deal with the dogs. And also dealing with the monkey was fun because the monkey's an old pro, he really knows what he's doing.
He's done other movies?
Herrmann: Yeah. He was in a big feature recently, so I was working with a "star."
Was the cat trained?
Herrmann: Cats are hard to train, but they can train them — he was trained, yes. Apparently these are a genetic freak, these hairless cats and they come from Ohio of all unlikely places and they're adorable. They're great. They're very smart. And they're not aggressive. They're not nasty tempered. We have three cats in our house and one of them can be a real pain in the neck but this cat was very well mannered and very easy to get on with. He was terrific.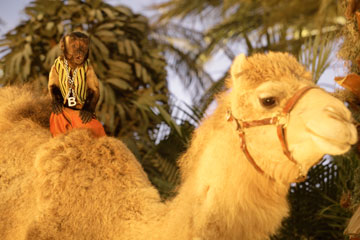 How about the baby camel? Was that a real camel?
Herrmann: Yes. I was warned the camels can be nasty, especially the young ones. We had three of them. I was warned to give it a wide berth.
Did it ever spit at anybody?
Herrmann: It did actually. One of the crew members, I think (laughs). But happily, I was in another place and the spit take (in the movie the camel spits on his character) was gelatinous goop dyed yellow.
You've played so many different characters in movies — you mentioned you enjoy playing a villain, is that your favorite type of role to play?
Herrmann: Not my favorite. I've done all sorts of things. I just like the variants. I've played Herman Munster among other things and the vampire in Lost Boys and then Rory's grandfather in Gilmore Girls. You just try to get as many colors on your palette as you can.
I loved Gilmore Girls. I'm surprised you weren't nominated for an Emmy for that. (Note: Edward won an Emmy in 1999 for a guest appearance on The Practice.)
Herrmann: We all were. I'm surprised Lauren [Graham, who played his daughter on the show] didn't win it year after year, because she's so wonderful. Or Alexis [Bledel, who played his granddaughter] or Kelly [Bishop, who played his wife] or any of us. The show after seven years only won one Emmy and it was for makeup and wardrobe design for one episode. I don't know whether it was a decision made by Warner Bros. or they didn't get along with the producer but we were very perplexed by it. Because it was a wonderful show.
It definitely was. Did you miss it when it ended?
Herrmann: Very much so. I'm still in touch with Lauren, Kelly and Alexis and it's a great group.
One last question — you grew up in Detroit, but you studied acting in London England — how did that come about?
Herrmann: Well, I was in Detroit, I went to school at Bucknell [University] and I went to the Dallas Theatre Center after working on a Masters the first three years and I took a Fulbright and went to London to continue training and came back for another year in rep [repertory theater] and then got to New York when I was 27. So it was the Fulbright scholarship that took me to London.
Did you begin your career onstage?
Herrmann: Yes, very much so. I go back to the stage from time to time almost regularly. If I'm off the stage after two or three years I get itchy and I have to get back onstage.
Treasure Buddies is available on DVD January 31st.  ~Alexandra Heilbron