Elizabeth Hurley inspired by Princess Diana
By Tribute News on March 14, 2015 | Leave a Comment
Elizabeth Hurley based her Royals character on the late Princess Diana.
The 49-year-old actress knew there was no point in looking to Queen Elizabeth, 88, for inspiration for her portrayal of Queen Helena because the age difference is too big, so turned to the monarch's former daughter-in-law — who died in a Paris car crash in 1997 — and popular fictional villains for ideas.
She said: "I wanted her to look like a modern queen, though, because you know, we don't have a modern queen. Our queen's fantastic, but she's in her 80s, so we couldn't pull from that for inspiration, so I thought, 'What if Princess Diana had lived? What would she have looked like now because she's only a few years older than me?'
Elizabeth also mentioned the villainous inspirations behind her character's personality.
"We kind of took a bit of inspiration from her [Diana] looks wise and then personality wise, I just pulled on every villain I'd ever seen, including Joan Collins in Dynasty, who comes in as my mother, Cruella De Vil, you know, Maleficent, all those fabulous big villains, I pull them."
Elizabeth insists the show isn't based on the UK royal family, but thinks they would enjoy the program if they tuned in.
She told Access Hollywood: "Nobody could confuse this with real life. I think if we should be so lucky that the real Royal family [tunes] in, and I think they will, they'll know it's fiction and so I think they'll just take it as it comes. I'm hoping they'll love it. I think they'll see it for what it is. It's a fun romp with some gravitas as well. There is suspense. There [are] important things going on as well as the fun."
---
---
---
Similar Articles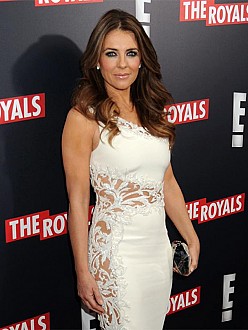 February 5, 2016 | Leave a Comment
Elizabeth Hurley only keeps a bottle of vodka and eye masks in her fridge. The 50-year-old beauty admits she doesn't keep her refrigerator well stocked at her city residence in London because she loves to go out for meals, but she makes up for that at …
---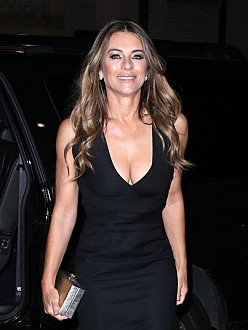 February 2, 2016 | Leave a Comment
Elizabeth Hurley hopes her son doesn't become a "horrible" teenager. The Royals actress' only child Damian – who she has with ex-boyfriend Steve Bing – has just turned 13 and she hopes he behaves much better in the next few years than she did at th…
---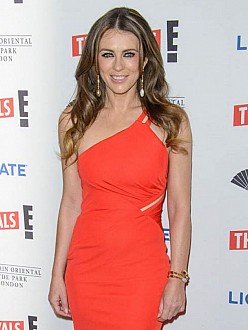 January 25, 2016 | Leave a Comment
Elizabeth Hurley harbors regrets about her last meeting with Jackie Collins. The romantic novelist passed away in September last year after a cancer battle, and Elizabeth has revealed she wishes she would have known about her health issues before their…
---