Elizabeth Hurley's teen fears
By Tribute News on February 2, 2016 | Leave a Comment
Elizabeth Hurley hopes her son doesn't become a "horrible" teenager.
The Royals actress' only child Damian – who she has with ex-boyfriend Steve Bing – has just turned 13 and she hopes he behaves much better in the next few years than she did at that age.
She said: "He's only just a teenager, so I haven't gone through any painful teenage years yet, but I was a horrible teenager so I'm hoping he doesn't take after me."
For now, the 50-year-old star still finds her son "enchanting" but she is ready for things to change.
She told new! magazine: "He still thinks I'm fabulous, but I know that could change at any second.
"His voice has just broken, so I know what's in store and everybody who I talk to is like, 'Just wait.' I've got some challenging years ahead – but right now he's still enchanting.
"But, you know, I'm a single parent and he's a single child of a single parent, so we have a close bond in that respect. And it's almost me saying to him, 'Now you'd better drop my hand, we're just heading in to school.' He says, 'I don't care.'"
---
---
---
Similar Articles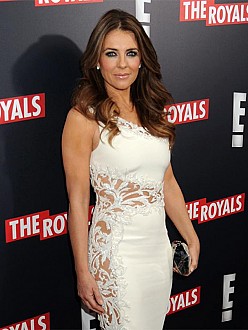 February 5, 2016 | Leave a Comment
Elizabeth Hurley only keeps a bottle of vodka and eye masks in her fridge. The 50-year-old beauty admits she doesn't keep her refrigerator well stocked at her city residence in London because she loves to go out for meals, but she makes up for that at …
---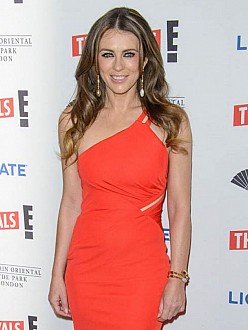 January 25, 2016 | Leave a Comment
Elizabeth Hurley harbors regrets about her last meeting with Jackie Collins. The romantic novelist passed away in September last year after a cancer battle, and Elizabeth has revealed she wishes she would have known about her health issues before their…
---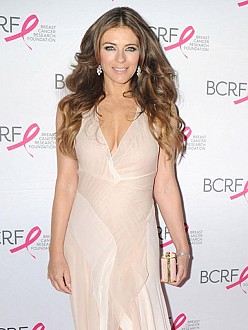 November 11, 2015 | Leave a Comment
Elizabeth Hurley's flirting has landed her in hospital "half a dozen" times.The 50-year-old actress has admitted she turns on the charm when she's around people but sometimes her cheeky gestures get so out of hand that she requires medical help.Spea…
---