Ellen DeGeneres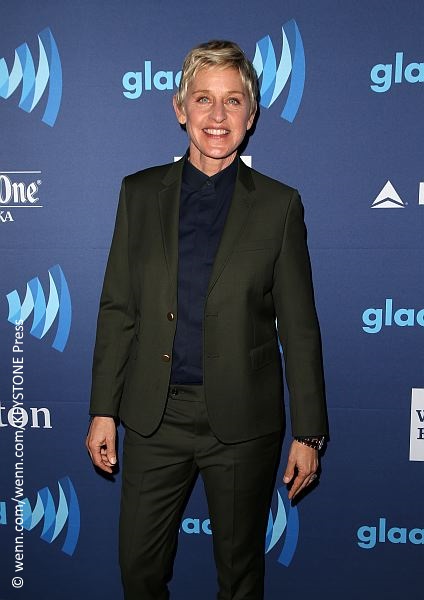 has a knack for making light of even the most serious situations, including those that involve her own physical injuries.
During the Monday, March 20 taping of her show, the comedian revealed that she accidentally dislocated her finger. The mishap occurred as Ellen and her wife Portia de Rossi were returning home after a wine-fueled dinner party.
Jokingly, she shared, "I'll tell you what happened. You know in gymnastics, when you do a one-handed cartwheel and you have to spread the weight evenly between all your fingers? Well, I had two glasses of wine and fell into a door."
She continued, "My first thought was, 'No big deal, Obamacare will cover this.' So Portia drove me to the hospital, to the emergency room."
At the hospital, Ellen's finger was snapped back into place. As she recalled the painful experience, she joked that she coined three new curse words.
She said Tammy, the nurse who tended to her, asked her if she wanted a shot before her finger was dealt with. Ellen replied, "No, I had two glasses of wine — that's what got me into this mess in the first place, Tammy."
During her monologue, Ellen made sure to thank Tammy and the rest of the UCLA Medical Center staff.
In typical Ellen style, the ordeal prompted Shutterfly to donate $10,000 so the TV personality could distribute it to people in need.
Below, check out an X-ray of her finger, which she posted to Twitter.
The 2017 People's Choice Award winner for Favorite Animated Movie Voice (Dory, Finding Dory) isn't the first television host to suffer a hand injury. In July 2015, Jimmy Fallon tripped and fell on a rug in his home.
As he explained shortly after the incident, "I get up and my finger is sideways. My ring got caught on the countertop when I was going down and stuck there and pulled my finger out."
To remedy the mess that was his finger, he underwent a six-hour microsurgery, which entailed removing a vein from his foot and inserting it in his finger.
Months after his tumble, his hands took another hit when he tripped and fell over a girl who was kneeling down and offering him a flower. He was carrying a bottle of Jagermeister, and as he detailed, "I just threw the bottle and landed on broken glass. There's pools of blood everywhere."
Jimmy was accepting the Lampoon's Elmer Award for Excellence in Humor at Harvard University when it happened.
What do you make of Ellen's boozy blunder? ~Matthew Pariselli
This is my finger. Seriously. Find out what happened tomorrow. pic.twitter.com/oy4sAyvPDN

— Ellen DeGeneres (@TheEllenShow) March 21, 2017