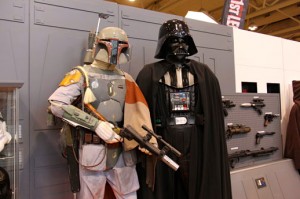 Friday at FanExpo was packed with COSplayers, vendors and panels. Professional COSplayer Yaya Han was ready to dish the behind the scenes and give tips on all things COSplay. Matt Smith (11th Doctor from Doctor Who), was on hand for a panel and an autograph session (see photo gallery). The 11th Doctor's sidekick Rory (Arthur Darvill), also spoke on a panel today with lots of audience participation!
Both the North and South buildings were packed with vendors and unexpected surprises. COSplayers from every genre walked the floor and there is nothing as enjoyable as watching one COSplayer take a photo with or of another COSplayer, a true appreciation of the hard work and detail that goes into each outfit.
The duo from Napoleon Dynamite Jon Heder and Efren Ramirez also were on hand for a panel and autograph session, sometimes going into character to answer questions. If you're looking to support charity while enjoying fandom head over to the North building vendor area,where the Doctor Who Daleks and a Doctor Who photoshoot are raising money for the Sick Kids Foundation.
Stan Lee was in one of the last panels of the day after overcoming the evil villains of a late plane and traffic jam. After fans waited about ten minutes for the Marvel marvel, a volunteer jumped on stage to let the audience know Stan had just called and said, "Thank you for waiting. Please don't leave!" Which created laughter in the crowd. Of course Mr. Stan Lee arrived to great applause and audience enthusiasm and made sure to give the audience every reason to be glad they stayed.
Check out photos from Friday's Fan Expo Canada and stay tuned for more updates, as there are still two busy, fan filled days to go! You can follow the fun on twitter on Tribute's twitter feed: @TributeMag
(Photos by Andrea Hodgins and Joanne Chu-Fook) ~Andrea Hodgins