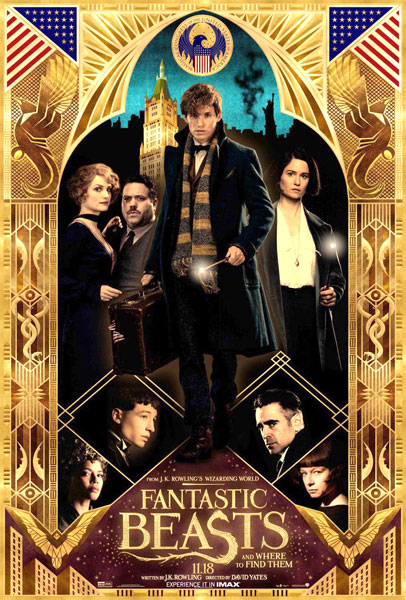 Fantastic Beasts and Where to Find Them is the latest production from the mind of Harry Potter author J.K. Rowling. It's set in 1926 New York City and stars Eddie Redmayne as expelled Hogwarts student Newt Scamander, who travels with his case of fantastic beasts. When the case is misplaced, several beasts escape and Newt goes on the run to save his beloved creatures before they expose the wizarding world.
Read on to see what our editors, Alexandra Heilbron and Marriska Fernandes, thought of Fantastic Beasts and Where to Find Them.
MF: Being a Harry Potter fan and after watching the live Q&A with the FB cast and J.K. Rowling, I was very excited to see the film. What were your expectations?
AH: They were high, considering that J.K. Rowling wrote the screenplay herself this time. Also, having seen the trailers, I thought it looked amazing. I love period pieces and loved the Harry Potter books and movies, which also added to my expectations. What did you like best about the film?
MF: I loved the plot and how each character had enough screen time to let the audience enjoy their performances and fall in love with the characters. There were three actors that really stood out for me: the first was Eddie Redmayne as Newt. Eddie played this role to a tee — a young man who's a bit awkward and dorky, but with a passion for his creatures, who he relates to better than humans. Like his other roles to date, Eddie captures the hearts of his fans with his talent and humility. My second favorite actor was Ezra Miller, who gave a heart-wrenching performance. His role as Credence was nothing short of brilliant. I think this is one of his best performances to date. And lastly, I thought Dan Fogler's Jacob Wakowlski provided a comic element that was too good to ignore. He is instantly likable.
AH: I also thought Eddie did a fantastic job. He's such a great actor and the quality of his work really shines on-screen. Thanks to him, Newt was an incredibly likable and charming, albeit quirky character — I felt he carried the film, even though at times, especially in the beginning, he doesn't get many lines. I also liked the other two you mentioned but Ezra Miller especially was a stand out in a very distinct role. However, I couldn't understand why Colin Farrell's character was showing so much interest in him. To get to his adopted sister? Then why not go straight to the sister? It didn't make sense to me.
MF: True, that was confusing. Nonetheless, I loved the ending. I was so excited with the final revelation!
AH: I was less impressed by the revelation. However, I did fall in love with Newt's little black platypus-type creature that he called a niffler. It was adorable and I'm anticipating plush nifflers to be available this Christmas shopping period. I liked the little green tree-like creature as well.
MF: Right, that was so cute! The world created by J.K. Rowling is so fascinating you simply get lost in it. The different kinds of beasts are gently and sweetly introduced to us by Newt and you can't help but fall in love with these creatures.
AH: What did you think of Katherine Waterston as Tina Goldstein and Alison Sudol as Queenie?
MF: I liked both of their performances. I wish the sisters had more of a background story. I liked the chemistry between Queenie and Jacob, their romance was cute.
AH: I found Katherine's performance bland. I was hoping she would grow on me, but the way she played her character, who was nosy and pushy, made the character even more annoying. On the other hand, Alison was a bright point, she added a spark as Queenie. While I was watching it I was thinking she was like a character from the musical Annie. Also, the special effects were brilliant and the cinematography was spectacular. It was a beautiful depiction of New York in the 1920s, right down to every tiny detail, including the costumes and footwear.
MF: I loved the 1920s dresses, the sets and the incredible CGI. I'm in awe of Rowling's imagination. I'm really looking forward to the next film and I hope there is a crossover with the Harry Potter universe.
AH: Sounds good to me. And I'm looking forward to seeing a whole different cast (aside from Newt), because according to a tweet from Rowling, the next one will take place, at least in part, in Paris.
MF: I give this film a magical nine stars.
And there you have it! If you've seen Fantastic Beasts and Where to Find Them and would like to rate/review it, click here.