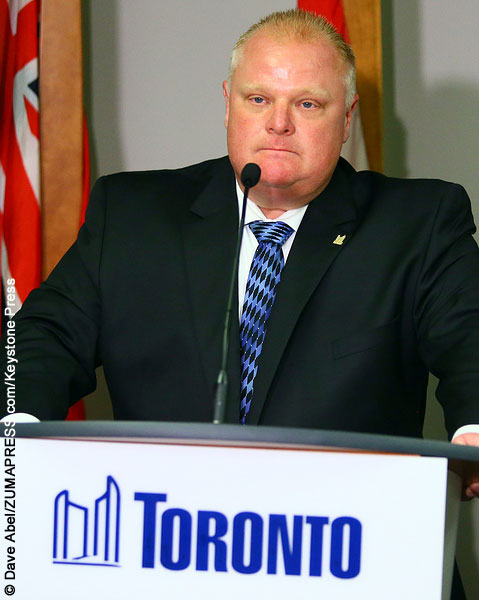 Rob Ford, former mayor of Toronto, has died at the age of 46 after a long battle with cancer.
The politician rose to international fame just four years ago for his controversial politics and his scandalous, drug and booze-filled run as the city's mayor. He made appearances on many late night talk shows, most notably becoming a fan-favorite on Jimmy Kimmel Live!
The father of two was first diagnosed with the rare and aggressive form of sarcoma — pleomorphic liposarcoma —  in September 2014 in the midst of his re-election bid, and had been in treatment for 18 months, until he finally succumbed to the illness this morning.
Just yesterday, his office confirmed that the Toronto city councillor was in palliative care at Mount Sinai Hospital.
"Family members have been with him around the clock," Ford's brother, and former mayoral candidate, Doug told The Toronto Star. "I have been at the hospital for the last five days and nights by his side."
His death was confirmed by his chief of staff Dan Jacobs who issued the following statement:
"With heavy hearts and profound sadness, the Ford family announces the passing of their beloved son, brother, husband, and father, Councillor Rob Ford earlier today at the age of 46. A dedicated man of the people, Councillor Ford spent his life serving the citizens of Toronto.
The family asks that you respect their privacy and join them in their grieving and their prayers. The family will not be making any statements to the media or taking any questions. Information will follow at a later time regarding memorial services. Over his decade and a half in municipal politics, Ford won a devoted following for being a straight talker who championed the average taxpayer."
~Shelby Morton