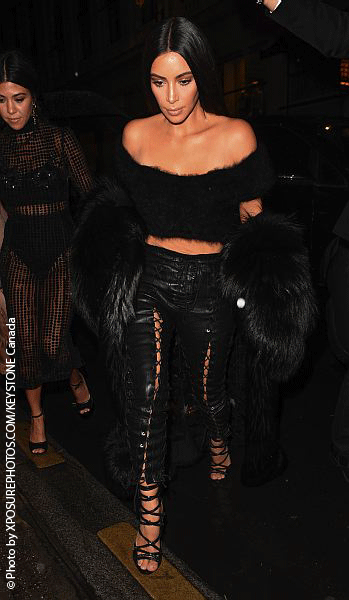 Kim Kardashian's incessant social media activity has been cited as a reason for the highly publicized robbery in Paris.
In the early hours of Monday, October 3rd, the 35-year-old reality show star was in an exclusive Paris apartment when she was tied up at gunpoint and locked in a washroom by masked assailants who proceeded to rob her of over $10 million in jewelry. Included in the goods that the thieves made off with was Kim's 20-carat Lorraine Schwartz engagement ring.
In a statement given to CNN, Johanna Primevert, chief spokeswoman for the Paris police department, said, "It was really the celebrity who was targeted, with possessions that had been seen and noticed via social media, and it was these goods that the attackers targeted."
Adding to that, Kim's former bodyguard Steve Stanulis said, "Security was out with the sisters and Kim had been showing all the jewelry on Snapchat. It's a perfect storm to get robbed."
Steve addressed the fashion in which Kim "flaunts her riches and diamonds" across social media platforms, saying that her endless activity on apps "invites trouble."
Kim has nearly 50 million Twitter followers and 84 million Instagram followers.
French authorities are still searching for the five people suspected of assaulting and stealing from her at the Hotel de Pourtales.
Check out one of Kim's recent Instagram posts below where her ring is prominently featured.
What do you think of Kim's social media presence? Legitimate reason for the robbery or irrelevant to the crime? Share your thoughts with us! ~Matthew Pariselli