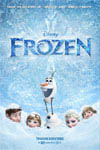 Disney's latest animated film, Frozen, cooled off The Hunger Games: Catching Fire, climbing to the number one spot in its second weekend at the box office. Featuring the voices of Kristen Bell, Idina Menzel and Ciarán Hinds, the movie hauled in $31.6 million over the weekend, taking over the top spot from the Hunger Games sequel. The film originally opened on the U.S. Thanksgiving weekend, taking in an impressive $66.71 million and earning a high Tribute rating of 4.1 stars.
Catching Fire, starring Josh Hutcherson, Jennifer Lawrence and Liam Hemsworth, topped the box office the last two weeks running and has a Tribute rating of 3.7 stars, but slipped into second with $27 million. Also chilled by Frozen, Out of the Furnace, starring Christian Bale, Woody Harrelson, Casey Affleck, Forest Whitaker, William Dafoe and Sam Shepard debuted in third place in its opening weekend. Despite the star-studded cast, the film generated only $5.3 million, but earned a high Tribute rating of 4.3 stars. Movies included in the top ten were Thor: The Dark World, Delivery Man, Homefront, The Book Thief, The Best Man Holiday, Philomena and Dallas Buyers' Club.
All films are expected to have big competition this weekend as The Hobbit sequel, The Desolation of Smaug, starring Martin Freeman, Ian McKellan, Richard Armitage and Benedict Cumberbatch, is expected to dominate the box office. The first Hobbit film, The Unexpected Journey, debuted with $84.6 million last year.