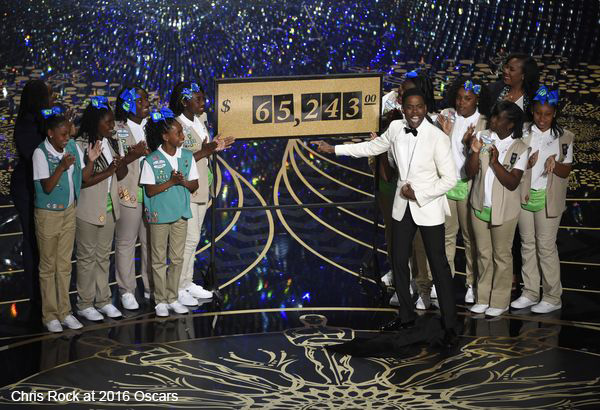 At the 2016 Oscars, host Chris Rock spoke about his daughter and how her Girl Scout troop needed to sell more cookies, so he brought out Girl Scouts Troop 5215 to coerce the crowd of rich (and presumably very hungry) celebs to buy boxes of cookies, from Tagalongs to Samoas to, the classic, Thin Mints.
And the girls cleaned up — at the end of the show, Chris said they raised just over $65,000.
But according to TMZ, the Troop hasn't seen a penny of it.
Latoya Edwards, whose daughter is in Troop 5215, told TMZ that the National Girl Scout Council informed them that the Academy would be donating the $65k to the Greater L.A. Council, but no such luck, and she claims that the Academy isn't returning any calls.
Edwards admitted, because of nonprofit rules, her local chapter would only get $1,000 of the money, but she said it's less about the money and more about the public relations lie that the scouts are now the faces of.
Both the Academy and the Girls Scouts of America (GSA) publicly applauded themselves for raising the $65k, however, neither are saying much now — a rep for the GSA told TMZ, "The donation process is determined by local councils," and the Academy is yet to return TMZ's calls for a statement.
Despite both organizations' reticence, Edwards said she and her scouts were honored to participate and were especially glad to unload 400 boxes of cookies, but she wants to make clear that the Inglewood chapter has definitely not yet seen the fruits of their hard-earned labor. ~Shelby Morton