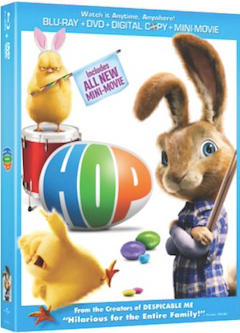 "Happy Easter to all and to all a good…mid to late morning." Sound familiar? Only in the movie Hop, or a strange parallel universe, would Easter be the Christmas of holidays. Whether you believe in the Easter Bunny, Santa or the tooth fairy, the movie brings back a time when it was easy to believe in such characters.
The first scenes in Hop portray the Easter Factory, equipped with little chick workers, similar to Santa's toy factory and his elves. It's there that the Easter Bunny's young son, E.B. (voiced by Russell Brand), becomes intimidated by the pressure of one day taking over the "family business." Meanwhile, a young Fred O'Hare (James Marsden) witnesses the Easter Bunny delivering a chocolate rabbit to him.
Despite E.B.'s father's (voice of Hugh Laurie) wishes, the young rabbit journeys to Hollywood where he meets Fred in a scene that offers amazing graphics as the animation is intertwined with real-life shots. While O'Hare tries to help E.B. chase his dream of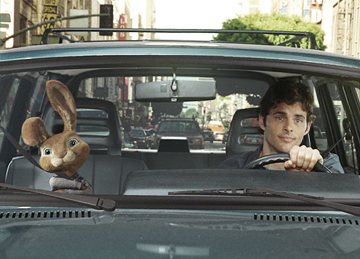 becoming a famous drummer, Easter Island is beginning to worry over the whereabouts of the heir to the Easter traditions.
Families will love the cute and heartfelt moments while they will also enjoy some laughs as O'Hare and E.B. run into hilarious obstacles, like a special trio called The Pink Berets and singing on stage for an elementary school concert. It's a feel-good family favorite that doesn't include the typical "happily ever after" ending. Adults will also enjoy cameo appearances by Russell Brand and David Hasselhoff. The DVD and Blu-ray release includes bonus features like a mini-movie, All Access with Cody Simpson (who recorded the film's theme song "I Want Candy"), games and much more. ~Renita Naraine