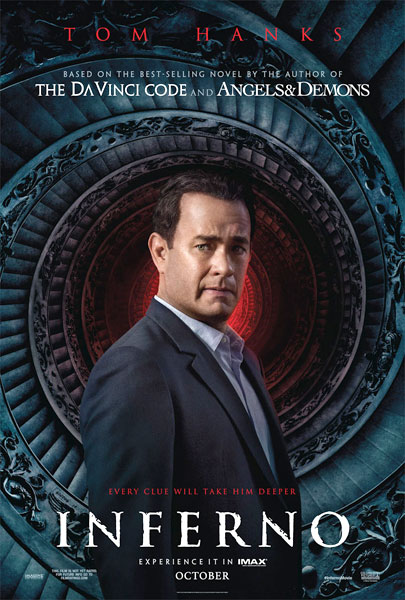 Tomorrow is Halloween, which means it's almost time to break out your best Donald Trump costume, try not to get egged while wearing it, and then gleefully overdose on various brands of candy. In the meantime, let's discuss what went on this weekend at the box office.
Although Inferno starring Tom Hanks as renowned professor of symbology Robert Langdon was expected to take first place on Halloween weekend, it wound up in second place with $15 million, less than half of what its predessor Angels & Demons opened with in 2009. Rated 3.3 stars at Tribute.ca, Inferno is adapted from Dan Brown's popular book series and co-stars Felicity Jones and Ben Foster.
It was Tyler Perry's latest Madea installment BOO! A Madea Halloween that earned first place for the second weekend in a row, bringing in an estimated $16.7 million. With over $52 million in domestic earnings, the spooky comedy is currently rated 3.4 stars at Tribute.ca.
Jack Reacher: Never Go Back dropped a spot from second to third in its second weekend, taking in an estimated $9.6 million. The sequel to 2012's Jack Reacher, rated 3.3 stars at Tribute.ca, has now earned almost $40 million at the domestic box office.
The Accountant, steadfast in fourth, added another $8.5 million to its near $70 million global haul. The flick, starring Ben Affleck and Anna Kendrick, follows a math savant/book cooker who finds himself way in over his head when he takes on a legitimate job. With almost 100 votes from Tribute's users, this action thriller has earned an impressive 4.6 stars at Tribute.ca.
Despite it being the scariest holiday of the year, the ghostly horror feature Ouija: Origin of Evil failed to capitalize on the Halloween fever, falling from third to fifth with $7.1 million. However, the 3.9-star-rated flick, led by Twilight vampire Elizabeth Reaser, has now earned over $24 million at the domestic box office — not bad for a movie that only cost $9 million to make. ~Shelby Morton