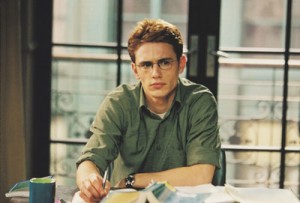 Former New York University professor Jose Angel Santana has filed a lawsuit against his former student, Oscar-nominated actor James Franco, citing the "disparaging and inaccurate public statements" Franco made about Santana after receiving a "D" in his class in 2010. "Whoever was in Clint Eastwood's chair at the Republican National Convention was more present than Mr. Franco
was in my classes," Santana said in a conversation with the New York Post. "He uses the bully pulpit of his celebrity to punish anyone who doesn't do his bidding."
This is actually the second time that Franco has been involved with a lawsuit with the former professor: back in November of last year (two months after he was fired from the institution), Santana filed a lawsuit against the University itself, making bold claims about the reasoning behind his firing. These claims included the fact that there was a school-wide conspiracy to let Franco slide through his studies without actually having to put in the work – a conspiracy Santana refused to take part in. He claims Franco failed to attend 12 of his 14 "Directing the Actor II" classes, and thus received the poor grade. His attendance record was reportedly just as bad in other classes, but a blind eye was turned to his shoddy attendance and workmanship. Franco has even gone on to teach a course at the school since graduating.
So what did Franco say, exactly? Well, following in the wake of the initial lawsuit, the Spider-Man actor told reporters he "didn't want to waste my time with a bad teacher," claiming Santana's teaching skills were subpar. "I didn't deserve to be on the receiving end of those falsehoods," Santana says. "I was outraged that someone with his attendance record at NYU had the audacity to make those statements." Santana is seeking unspecified damages against the actor. ~Devin Garabedian