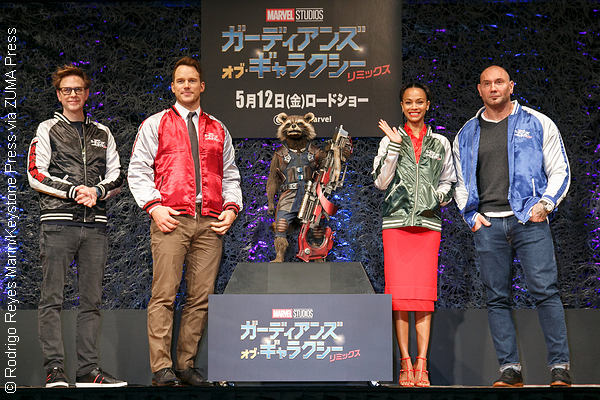 The intergalactic criminals audiences loved in Guardians of the Galaxy — and will soon fawn over in Guardians of the Galaxy Vol. 2 — will once again be shepherded by franchise mainstay James Gunn in the third installment.
News that James has been booked to write and direct Guardians of the Galaxy Vol. 3 was released by the filmmaker himself. He took to Facebook Monday (April 17) to share details of the announcement with fans.
You can read the post in full by clicking on the image below.
The 46-year-old, who also penned this year's thriller The Belko Experiment, wrote, "I could save this answer for the first, random interviewer to ask me during the press junket but instead I thought I'd share it with the most important people in the Guardiansverse — you, the fans, who have been so incredibly supportive and enthusiastic over the past five years, it has moved me to tears on a regular basis."
He continued, "So, yes, I'm returning to write and direct 'Guardians of the Galaxy Vol. 3.' In the end, my love for Rocket, Groot, Gamora, Star-Lord, Yondu, Mantis, Drax, and Nebula — and some of the other forthcoming heroes — goes deeper than you guys can possibly imagine, and I feel they have more adventures to go on and things to learn about themselves and the wonderful and sometimes terrifying universe we all inhabit. And, like in both Vol. 1 and Vol. 2, we will work on creating the story that goes beyond what you expect."
James, pictured above at left with stars Chris Pratt, Zoe Saldana and Dave Bautista at a press conference in Tokyo, then segued into discussing what the third film will explore, revealing that, among other things, it will set the stage for the next decade of storytelling in the Marvel Cinematic Universe.
The filmmaker wrote, "It will conclude the story of this iteration of the 'Guardians of the Galaxy,' and help catapult both old and new Marvel characters into the next ten years and beyond. I will be working side-by-side with Kevin Feige and the gang to help design where these stories go, and make sure the future of the Marvel Cosmic Universe is as special and authentic and magical as what we have created so far."
There's no word yet on when Guardians of the Galaxy Vol. 3 will hit theaters.
As for the franchise's second picture, it launches May 5. Starring Chris Pratt, Zoe Saldana and Bradley Cooper, to name a few, it's expected to pull in at least $150 million in its debut weekend. That gross would land it among Marvel's top five highest openings.
Are you relieved to learn James has been signed to Guardians of the Galaxy Vol. 3? Or is this news devastating? Let us know! ~Matthew Pariselli