Julia Roberts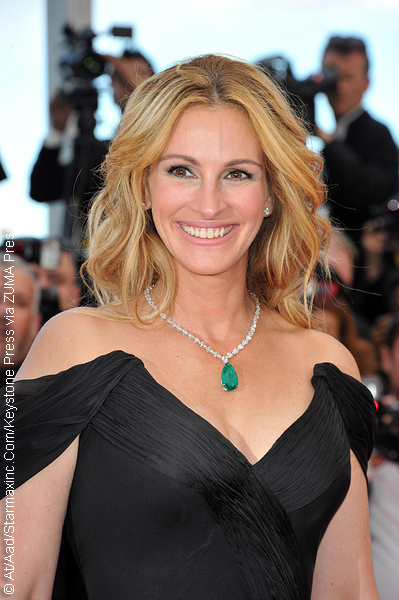 is one pretty woman — at least in the eyes of PEOPLE, which named her Most Beautiful Woman for a record-setting fifth time.
The 49-year-old actress first nabbed the honor as a 23-year-old in 1991 and was bestowed the title again in 2000, 2005 and 2010.
While chatting with PEOPLE about this year's fifth title, Julia said, "I am very flattered."
She also poked fun at pal George Clooney, who has been PEOPLE's Sexiest Man Alive twice. While discussing her five honors compared to George's two, the Erin Brockovich Oscar winner joked, "I'm going to mention that in my Christmas card to the Clooneys this year."
Throughout PEOPLE's cover story on the Pretty Woman star, Julia delves into topics such as her 14-year marriage to cinematographer Danny Moder, her role as mother to three kids, and her secrets to beauty.
Julia said, "I think I'm currently peaking."
As for Julia's film projects, she's currently heard in theaters as the voice of SmurfWillow in Smurf: The Lost Village. In November 2017, she'll take to the screen in the drama Wonder alongside Owen Wilson, Mandy Patinkin and Jacob Tremblay.
PEOPLE's previous Most Beautiful Woman honorees include Halle Berry, Nicole Kidman, and Jennifer Lopez. Michelle Pfeiffer and Jennifer Aniston have twice earned the title as well.
Do you agree with PEOPLE's choice to name Julia this year's Most Beautiful Woman? If not, which star would you have chosen? ~Matthew Pariselli