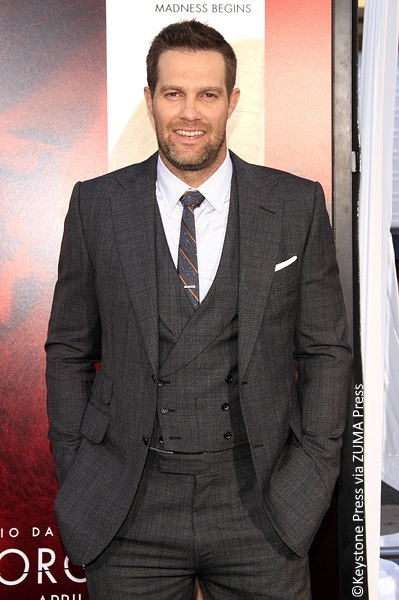 Geoff Stults stars in the upcoming movie Unforgettable alongside Rosario Dawson and Katherine Heigl. Geoff plays David, a man caught between two strong women. After divorcing Tessa (Katherine), he moves in with fiancée Julia (Rosario) and his daughter, whom he co-parents with Tessa.

We caught up with the actor to discuss filming this intense thriller and working opposite Katherine and Rosario. He also reveals his most unforgettable encounter.
What appealed to you when you read the script?
When they first sent the script I was like, "Wow. Katherine Heigl and Rosario Dawson. That's a great thing to be a part of. It's an interesting take on this sort of genre. I thought it was cool. It's not necessarily about painting the ex to be crazy. It's more about how certain situations could make a seemingly sane person behave in a way that can be labeled crazy. And also about present day issues like social media, cyberstalking and that kind of stuff.
The other thing too is that nobody really knows what we're all capable of when we're alone. Somebody like Tessa and that scene where she's alone and on the web, sipping a glass of wine, it's a slippery slope. We all do it every day when you're sitting on the train and you see somebody on Instagram and you're curious to see who do they like, etc. You really judge people based on their online profile.
Let's talk about the dynamic you share with Katherine Heigl and Rosario Dawson, who play two very different personalities.
Yeah, crazy scary and make-out lovely. As far as the dynamic, my relationship with Rosario for most of that movie was like a love story. We're dancing and loving and being sweet. But the majority of my relationship with Katherine is that she is my ex and we're co-parenting together and I'm trying not to ruffle any feathers. I'm trying to do whatever is best for our daughter knowing that I still have a love and respect for my ex. That was the dynamic.
Katherine could come out of her character and she would joke around a little bit, but it's a hard character to flip in and out of. She wore her hair, her posture, her tone — she put a lot of effort into the crazy. So I kind of never liked being around her until the end of the day. At the end of the day when she relaxed, that was the only time I liked being around her. Other than that, it was too realistic. I was like, "Oh f**k, no thanks."

What about with Rosario?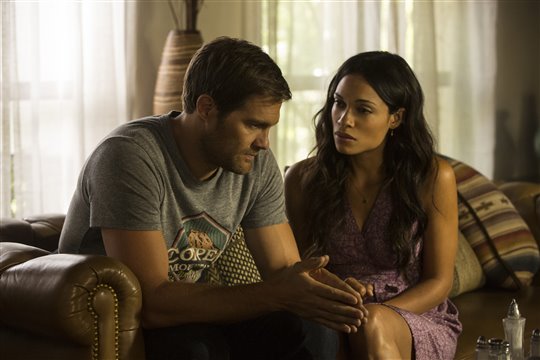 Between her and I and my daughter… we had fun play times. It was great. We worked on getting to know each other and there was a level of comfort we had to have for the intimate scenes. She's the perfect partner for that. She's such a pro. And when our characters derailed, it was weird for us too. There was a separation of Church and State there a bit.
Having a female director, telling this story from a female point of view — what added elements did Denise [Di Novi] bring to this story?
That's a great question. Not that a man couldn't be sensitive to that, but I think it was a really interesting perspective to have. It was written by a female, directed by a female, produced by a female, starring two wonderful females. Really, I was the odd man out. If you look at the story, and you think about it, David sort of represents the damsel in distress. To me, I was just being directed by a capable talented person, a great producer. It's a shitty thing that it's 2017 and we still have to talk about that and I know big strides have been made about gender equality, but there's still a long way to go.
But she's a boss. Denise is a bad-ass. She knows so much about this business, there's such a level of accomplishment and calm — all the department heads respected her so much. I just felt like I was going to work for my boss, somebody that I respected and collaborated with. I never even thought about her being a woman director. But as far as blazing a path for other female directors, she's on her way. She's produced things for years. This is technically her directorial debut and it's interesting it took her a long time to do it. There are topics like violence and cyberstalking that maybe wouldn't have been handled as sensitively or accurately if it had been a male director.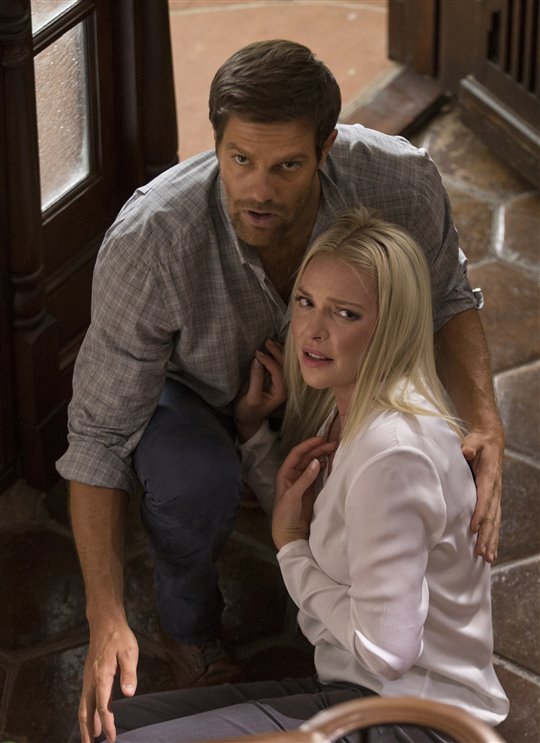 Did you draw on any real life experiences of being caught in the middle of two strong personalities?
My parents are super different. My dad is very right wing and my mom is very left wing. My mom is a bad-ass. She's a very respected hard worker who raised two boys and I'm afraid of her. (Laughs) Maybe I can draw on that a little bit. I know, it's not two women you're stuck in between, but as an actor if you can't relate to it, you imagine it or draw from other people in your life. I think a good parallel would be growing up with two very strong-willed people who didn't agree on a lot of things, except trying to do what's best for their kids. I tried to use that a little bit for this character.
Can you tell us about the most unforgettable encounter you've ever had?
Okay, this is unforgettable and embarrassing. One time somebody came up to me and was like, "Hey, do you mind if we take a picture?" That's what I heard in my head and so I said, "Of course!" So I put my arm around the girl and she's like, "What are you doing?" They just wanted me to take a picture of them. (Laughs) I was standing there with her and kind of waiting for the boyfriend to take a picture. It was so uncomfortable. So they felt obligated to ask, "Oh, I'm sorry. Who are you?" Then I'm standing there explaining that I'm an actor and then they're like, "What have you been in?" and I name a couple of things and they have no idea. I don't know if that's the most unforgettable, but it came to mind.
That's hilarious. And lastly, what can you tell us about your next film Granite Mountain?
Granite Mountain is an incredible story about the lives of 20 men, 19 of whom lost their lives in a fire protecting a town in Prescott, Arizona in June 2013. It's a powerful story — not about the death of these guys, but about their lives and those that they left behind. I'm really proud to be a part of that. It's an incredible true story and happened only four years ago.
Unforgettable opens this Friday, April 21, 2017.
~Marriska Fernandes