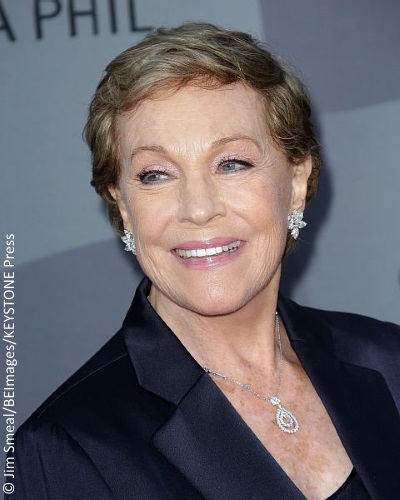 With Julie Andrews' blessing of Emily Blunt in the title role of Mary Poppins Returns, the film is shaping up to be "practically perfect."
Emily, 33, revealed to Entertainment Weekly that the original nanny with a knack for magic endorsed her casting in the sequel. She said the sequel's director, Rob Marshall, was in the Hamptons when he crossed paths with Julie and told her that Emily would be picking up her old umbrella.
Julie's response: "Oh, wonderful!"
When Emily learned of Julie's favorable reaction, she was relieved.
She said, "I felt like I wanted to cry. It was lovely to get her stamp of approval. That took the edge off it, for sure."
The Into the Woods actress also disclosed why she's nervous about playing the iconic character from the 1964 Oscar-winning classic.
She said, "I feel a little more trepidation with [Mary Poppins] because she's so emblematic of people's nostalgia. It's such an important character in people's childhood."
The star of the upcoming thriller The Girl on the Train added that her portrayal of Mary will vary slightly from the one viewers were made familiar with by Julie.
She said, "We're delving into the books a lot more, which is a different version of the character… She's a little meaner, yeah."
Hamilton's Lin-Manuel Miranda will play Jack the lamplighter in Mary Poppins Returns, while both Meryl Streep and Ben Whishaw are rumored to be attached as well.
The film is slated to hit theaters on December 25, 2018.
Do you think Emily will do the part justice? Can anyone really replace Julie Andrews? Share your thoughts with us!