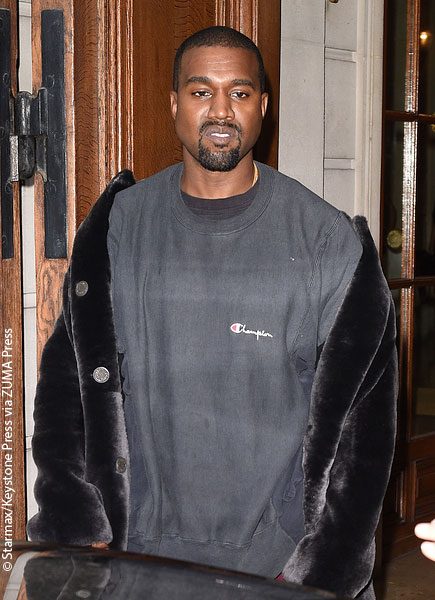 Kanye West has been hospitalized for psychiatric evaluation in California after cancelling his Saint Pablo tour.
TMZ reported that police were called yesterday at 1:20 p.m. to the home of Kanye's trainer, Harley Pasternak, for a "welfare check" after the rapper began acting erratically. They further reported that Kanye was handcuffed and taken to UCLA Medical Center for an assessment.
However, a source told PEOPLE that the 39-year-old "Famous" singer "is exhausted and currently dealing with sleep deprivation" and that "he went to the hospital at will under the advice of his physician." According to PEOPLE's source, he was not restrained.
To further cloud the situation, NBC News claims a source familiar with the case said Kanye was taken to the hospital out of "concern for his own safety."
The reasons for his hospitalization and the conditions under which he reached UCLA Medical Center may not be clear at this point, but it's widely understood that the Los Angeles Police Department responded to a "disturbance call that became a medical emergency call" made yesterday afternoon.
The Grammy winner's hospitalization comes shortly after he abruptly ended a Saturday, Nov. 19 concert in Sacramento, which he showed up to an hour and a half late and where he only performed for 30 minutes.
At the concert, Kanye went on a tirade against the media, Jay Z and Beyoncé, Hillary Clinton, and Mark Zuckerberg.
He said, "I'm on my Trump sh*t tonight…I'm taking his lead," referring to the President-elect, whom he endorsed at an earlier show, despite admitting he didn't vote.
It was also Monday, Nov. 21 when Kanye cancelled the remainder of his Saint Pablo tour. The 21 concert cancellations are worth a reported $30 million in ticket sales.
His wife Kim Kardashian was slated to attend Monday's Angel Ball in New York City, but was a no-show. It would have been her first public appearance since the Paris robbery in October.
What do you think of Kanye West's hospitalization and his decision to cancel his tour? Is he just exhausted or is there something deeper at work? Share your opinions with us. ~Matthew Pariselli