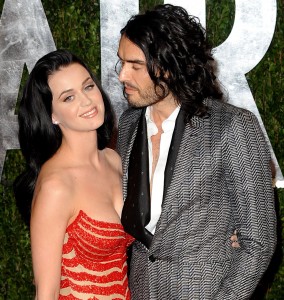 Are Katy Perry and Russell Brand Hollywood's next power couple?
Katy Perry and Russell Brand are fast becoming a Hollywood super couple. Perry, who climbed her way to the top of the music charts with hits like "I Kissed a Girl," "California Gurls" and "Firework" has quickly become one of pop's reigning princesses, while the British Brand (formerly a British TV presenter) has made a huge splash this side of the pond with his quirky, sometimes lewd, sense of humor in such films as Forgetting Sarah Marshall and Get Him to The Greek.
Maybe it's her hubby's influence, but Perry is not only expanding her entertainment career into the world of beauty (she recently released her first fragrance, Purr) but is now making her way onto the big screen as well. You won't actually see Perry herself appear, but you'll hear and recognize her sweet sound as she lends her voice to one of cartoons' favorite female characters, Smurfette, in the upcoming movie The Smurfs. "I've never seen an episode [of The Smurfs], because my parents wouldn't let me," Perry, who grew up in a strict religious household with her freelance minister parents, told MTV News. "My mom thought that Smurfette was a little bit slutty, being the only female in the village. And now I showed her. I called her up and was like, 'Guess what, Mom: I'm Smurfette!'"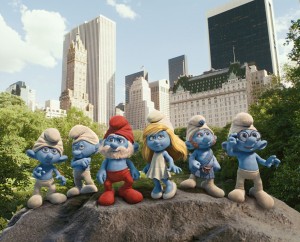 Brand is also getting set to launch two movies in April. He'll voice the character of the Easter Bunny in Hop. In the movie, an out-of-work slacker named Fred (played by James Marsden) accidentally injures the Easter Bunny and must take care of him as he recovers. But when Brand takes over a character, chaos is sure to ensue. His "Easter Bunny" ends up being the world's worst house guest. When asked what kids will think of his rendition of the beloved furry animal, Brand quipped to Enews, "I'll make them do whatever I want. I'm gonna take their money. I'm going to mess with people's lives. I'm going to own Easter!"
Switching gears, Brand segues into a character that seems to fit him perfectly. In Arthur, Brand reprises the role made famous by Dudley Moore in the '80s, playing the drunken playboy who stands to lose his inheritance when his family learns he's fallen for a woman who is not of their station. "I adored the original Arthur," Brand told CinemaBlend.  "Watched it loads. My dad loves it and used to quote stuff from it." Brand also made sure he was able to use his comedic skills to put his own spin on the character. "I interfere with the script regardless of whether or not I know anything about it," Brand said. "So if it was about ancient Muslim ceramics, I'd probably still express an opinion and expect to be heard! I improvised all the time. It's one of the things that I think helps me to enjoy what I do for a living, to keep spontaneity."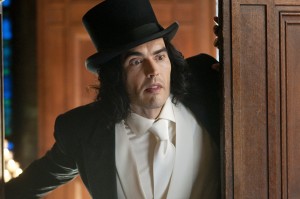 With their careers on the rise, these newlyweds seem destined to become a huge force in the industry. But like most famous couples who have budding careers, work often comes first. Amid rumors of a rocky marriage, reports say Brand and Perry are struggling to keep their marriage alive. The pair, who married only a few months ago—on October 23 in a lavish ceremony in India—are said to be dealing with too much time apart. In order to nip things in the bud, Perry, who is on her candy-themed California Dreams Tour, and Brand are currently believed to be seeing a marriage counselor in an attempt to solve some difficulties.
But although fame can often be a relationship killer, it's something Brand says he doesn't want taking over his life. He insists fame isn't "all that good," in a documentary he's making with Oliver Stone about happiness. "I'm famous now. I didn't used to be, but when I was younger, I always wanted to be famous. I thought it would make me happy. But now I've got fame and some of the things that I thought would make me happy—it ain't worked," Wenn.com reports.
"I don't want to say, 'Lavish sympathy upon me.' I can imagine what people will say—'Wasn't it as good as you anticipated?'" Brand continued. "Was it when you were single and all the sex and the boozing that was disappointing? Or is it really starting nowthat you are living in a mansion with three cats and Katy Perry? You have suffered.' It's just peculiar to me, a lad growing up in Essex, London, that I would attach such importance to becoming famous and things, and it's not all that good."
-By Toni-Marie Ippolito
Do you think Katy Perry and Russell Brand are set to be Hollywood's next power couple? Which new Hollywood couple do you think are the next Brad Pitt and Angelina Jolie? Vote in our online poll!