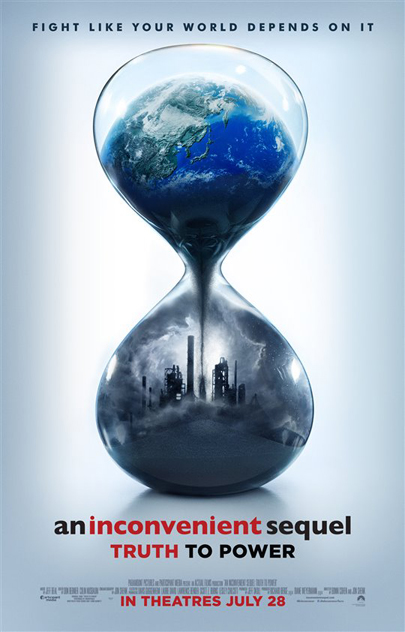 Moviegoers under 18 will get the chance to see An Inconvenient Sequel: Truth To Power in theaters for free in the U.S. when it opens on July 28, 2017, thanks to Paramount Pictures and Participant Media in partnership with Snap Inc.
Starting Tuesday, July 25 2017, Snapchat users 18 and under will see the promotion populate in their Snapchat feed and be able to swipe up to redeem a code for free movie tickets. Each code is good for two tickets and will be active for 30 days. The promotion runs to August 3, 2017, while supplies last.
"We strongly support Former Vice President Gore's vision to inform people of all ages about climate change, and Snapchat presented a unique opportunity for us to reach a crucial audience in an organic way. We're excited to be able to share this film with young moviegoers who are passionate about this issue," said Paramount Pictures SVP Shannon Petranoff.
A decade after An Inconvenient Truth brought climate change into the heart of popular culture, the riveting follow-up shows just how close we are to a real energy revolution. Former Vice President Al Gore continues his tireless fight, traveling around the world training an army of climate champions and influencing international climate policy. Cameras follow him behind the scenes – in moments both private and public, funny and poignant  –  as he pursues the inspirational idea that while the stakes have never been higher, the perils of climate change can be overcome with human ingenuity and passion.
Click here to watch our interview with Al Gore.
An Inconvenient Sequel: Truth To Power opens in limited release in theaters on July 28, 2017 and expands August 4, 2017.