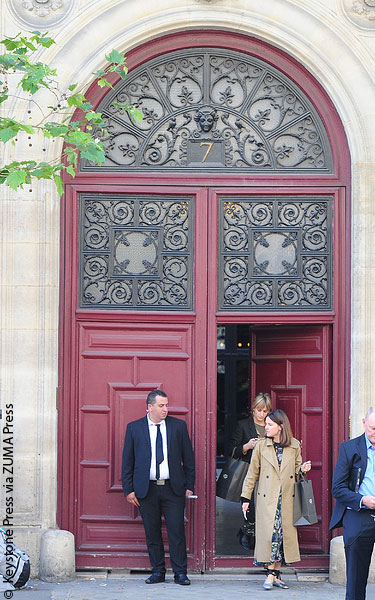 One of Michael Jackson's former bodyguards, Matt Fiddes, has raised serious questions about the Kim Kardashian Paris robbery, while the Daily Mail reports that Kim's bodyguard, Pascal Duvier, who left her alone to attend a nightclub with Kim's sisters at the time of the robbery, is in debt for more than $1.2 million and filed for bankruptcy 10 weeks earlier.
Fiddes says what happened to Kim could never have happened to Michael Jackson for a variety of reasons.
He questions why the rest of her family was staying at another hotel instead of with her at the Hotel de Pourtalès on rue Tronchet (pictured at left). In a discussion with MailOnline, Fiddes said while he was in Jackson's employ, the star was never left alone.
He told the British site: "Michael used to tell me that he had never walked down the street alone without security since he was seven years old. Kim should have absolutely not have been left alone without security, it is all very fishy. I would have said she should have had seven or eight security people outside the building and another two or three more trusted people inside. In America, when I was with Michael Jackson we would also have a link to local police and they would come right away if there was an incident." He added that celebrities carrying millions of dollars of jewelry often have a bodyguard dedicated to protecting the jewelry.
He feels there's something not quite right about the fact that there were no CCTV cameras at the palatial hotel, saying, "A camera should have been fitted to the bedroom door where she was sleeping along with a sensor. A screen could have been set up in the chief of security's bedroom, and somebody would have watched it all night. It is standard procedure. There is something not right there."
The hotel building apparently has deadlocked armored doors with bolts on the inside. As there was no sign of forced entry, he wonders why Kim would have opened the door to five men wearing masks in the middle of the night. He says even if they were claiming to be police, she could have called the Paris police to verify.
After a visit from Kim's mother and her sisters, Kourtney and Kendall, Kim apparently told her bodyguard, Pascal Duvier, to stay with her sisters, who were going to a nightclub. Fiddes says it's beyond belief that Duvier left Kim alone. He explained: "My take on that is that you have to be willing to take a bullet to protect people and when you get to the stage you can't, that is when you have to move on. It seems that he has become more of a friend to Kim rather than an employee… He also has his own social media accounts, which [Michael's bodyguards] would not have been allowed to do at all."
It turns out there were only three bodyguards in total for all of the Kardashians who were in Paris at the time, despite the earlier terrorist attacks on the city. He thinks this is strange, adding, "When her security were doing their research, they would see Paris has had two major terror attacks recently. She is one of the most high profile celebrities in the world and I might have advised her not to go, especially if it was just to attend some fashion shows. She is a major target, especially as she is a high profile American woman."
Finally, he says it's beyond explanation why Kim was allowed to leave France on a private jet for the United States just hours after the robbery, especially when victims are usually asked to stay after a crime has been committed for at least a few days. Without Kim — who was one of only two people to see and hear the robbers — to identify them and to answer questions and possibly review evidence, it makes the case much more difficult for the Paris police to solve.
Does this robbery seem fishy to you? Tell us below!