Maina star Roseanne Supernault wants to play a superhero
By Marriska Fernandes on June 10, 2014 | 2 Comments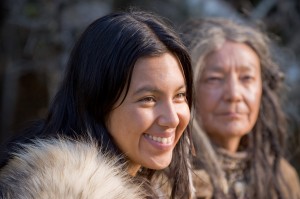 Award-winning Vancouver-based actress Roseanne Supernault (pictured at left with Maina co-star Tantoo Cardinal) may have only a few credits to her name, but she is already getting accolades for her performances. She starred in the TV series Blackstone, which earned her two Best Actress Awards at the Alberta Film and TV Awards. She also stars in the historical Canadian drama MAÏNA and the much-talked about Rhymes For Young Ghouls. We chatted with her about the film and the next step in her career. ~Marriska Fernandes
Tell us about your role in this film?
I play Maina and I'm an Innu Cree Chief's daughter of a tribe called The Nearly Wolves. She goes on a journey to the North, the land of the Inuit, to save her friend after he has been taken captive by them. Along the way, she is taken captive as well, but in a twist of fate she falls in love with her Inuit captor. This is exactly the type of role I love to embody, because the bottom line is that Maina is a unique and contemporary take on the classic image of Native people of this land. I may be donning buckskin in this role, but I was so aware that this was an opportunity to present a smart, driven, dynamic human being – not the romanticized image of my people that has been recycled in Hollywood. So, in that sense, Maina is contemporary.
How similar/different are you to your character in MAÏNA?
Firstly, we're both Cree. Maina was raised with spiritual/traditional Cree values, and so was I. To me, Maina is a story of transformation, because she grows from a young, naive, albeit strong willed girl into a grounded and powerful woman. In many ways, that reflected upon my own life while I worked on this project.
What was it like shooting for the film in Arctic locations?
It was actually really amazing, and there are still days when I miss it. Our film crew was so close to nature every single day – in this film, it's as if Mother Nature has a leading role of her own. If you're hungry for some nature and to see why sustainable living is vital and land preservation is so important, then you need to see this film. Canada is gorgeous!
What was the most challenging aspect of your career?
Personally, it's being in my demographic and navigating my way through an industry that is struggling to see First Nations people in non-stereotypical roles. Producers/directors really need to be giving First Nations roles to First Nations actors – and not just the roles with buckskin and feathers. How are Native performers supposed to hit a home run if we aren't even given the chance to bat at the plate?
As minorities, we have to take matters into our own hands and make stories that depict our peoples in a contemporary and truthful light. I was recently in the groundbreaking film Rhymes For Young Ghouls which became a TIFF Top 10 selection and received critical acclaim. Films like that are a step in the right direction. I firmly believe that if we continue to make powerful stories with our storytellers in the drivers seat, then we're definitely on the right track.
You also do theater. How different is it from working on feature films?
Theater is a beautiful beast on its own. I believe that it takes actors of a certain caliber to be onstage – and for some of us, there's a real love and passion for it. I feel like the focus it takes in film is more nuanced whereas the focus in theater must be consistently retained through the performance. No one's there to yell "cut" if you screw up. And your team is really relying on you. I'm so glad I grew up playing sports! It's really come in handy in my career.
What's your dream role?
I really want to play a superhero and keep playing strong characters that youth can look up to. I want to challenge myself physically and do more action films. My favorite dramatic performances are by Angelina Jolie in Girl, Interrupted and Penélope Cruz in Vicky, Christina, Barcelona. Artistically speaking, I'm not afraid to go inside and explore my dark side. My writing often reflects those entities.
Which director would you love to work with?
Working with Jeff Barnaby on Rhymes For Young Ghouls was mint and I'd love to work with him again. I'm excited to see what he does next. I'd also love to work with Derek Cianfrance, Quentin Tarantino and J.J. Abrams. We need more female directors out there; I want to work with Catherine Hardwicke and Kathryn Bigelow.
Who has been your mentor in the industry?
I always speak highly of the First Nations performers who came before me and laid the groundwork. My mentors include Tantoo Cardinal, Carmen Moore and Adam Beach. I've been fortunate in that sense. In my culture, counsels are vital, and to me, when you're making major career decisions you need to call upon your mentors.
What's next for you?
I just finished filming a docudrama and a short film and also performing a theater run. MAÏNA is opening theatrically across Canada and Rhymes For Young Ghouls was just released in Canada on iTunes and DVD. I'm keeping busy auditioning and am excited for what the Universe has to offer me.
MAÏNA showtimes:
Calgary: June 7 to 13 at The Globe Cinema
Regina: June 13 to 19 at Rainbow Art Cinema
Ottawa: June 20 to 21 at Summer Solstice Aboriginal Festival
Saskatoon: June 20 to 26 at Magic Lantern Saskatoon Roxy
Whitehorse: June 27 to July 3 at the Adaka Cultural Film Festival
Kamloops, Edmonton, Calgary, Kanata, Toronto: June 20 to 27 at various locations
Whitehorse: July 3 at Adaka Cultural Film Festival
Sidney: July 4 to 11 at Stars Cinema
Fort McMurray, Brandon and Whitehorse: July 5 to 6 at various locations
---
---
---
---