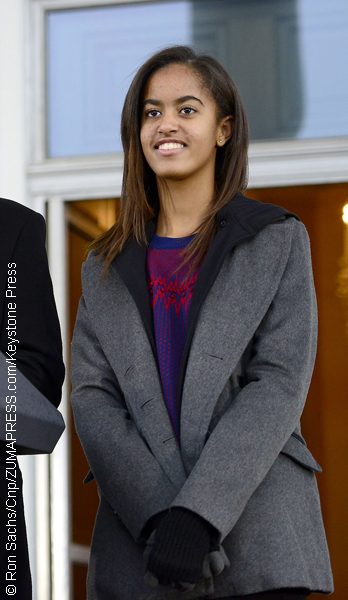 Malia Obama's father may be enjoying some well-earned R&R, but according to TMZ, she's keeping busy over at the Weinstein Company.
Former president Barack Obama's eldest daughter Malia, 18, is in her first week of interning at Bob and Harvey Weinstein's film company. Instead of fetching coffee and sandwiches, though, she's sifting through scripts and pitching her picks to top executives.
Since Monday (Jan. 30), Malia has been placed in the company's production/development department and will reportedly stay put until she completes her internship in the spring. She is getting paid for her work and sources estimate her wage is roughly $9 per hour.
For those who either don't know or can't recall, the Weinstein Company has a fairly good history when it comes to supporting quality films. It's produced Oscar-friendly pictures from Shakespeare in Love and The King's Speech to The Artist and Django Unchained.
Before Malia began combing through scripts this week, she was educating herself on some of the year's most buzzworthy upcoming films at the Sundance Film Festival in Park City, Utah.
We're not sure how long Malia has been a film buff, but perhaps her interest piqued last summer when Southside with You hit screens. Starring Parker Sawyers and Tika Sumpter, the film details Barack and Michelle Obama's partnership beginning in 1989 Chicago.
Do you think all interns at the Weinstein Company are pitching scripts, or is that just a privilege Malia is granted by way of being the daughter of a recent POTUS? ~Matthew Pariselli