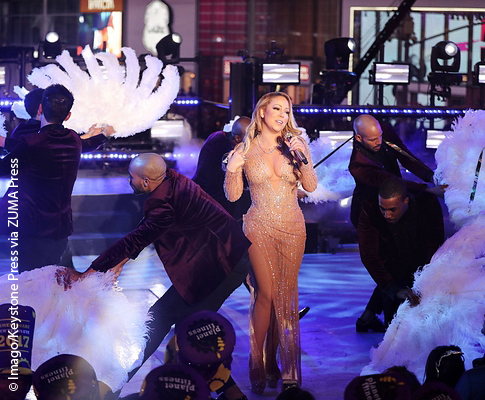 Days before her New Year's Eve meltdown in New York City, Mariah Carey was spotted shopping at a weed dispensary while on holiday in Colorado.
According to the Daily Mail, the 47-year-old Grammy winner was all smiles on Christmas Eve (Dec. 24) as she and her entourage were photographed heading into The Original Leaf, a marijuana dispensary in the resort town of Aspen.
The photos were taken exactly seven days before the pop star's Times Square performance disaster, during which she eventually walked offstage after an endless array of technical problems.
Mariah's New Year's Rockin' Eve performance started off on a sour note as the gold sequin-gowned songstress stopped singing several times — while prerecorded tracks of her voice continued to play.
During "Auld Lane Syne" and "Emotions," the singer took out her ear piece after her live vocals continued to be out of sync with the prerecorded ones, pleading with the production crew to turn on the monitors as she stood on stage.
The vocals were again off during "We Belong Together," and a visibly exasperated Mariah finally walked off stage. According to the UK paper The Sun, she reportedly told the audience, "I wanted a holiday too, can't I just have one?"
The paper added that Mariah believes "foul play" was involved. A source close to the diva told the paper: "Mariah is fuming and has been left very upset for the past couple of days. She won't let this go and believes somebody tried to sabotage her. She is launching her own investigation into the incident."
In a statement, Dick Clark Productions called the allegations "outrageous" and "absurd."
"As the premier producer of live television events for nearly 50 years, we pride ourselves on our reputation and long-standing relationships with artists," the statement read. "To suggest that dcp (Dick Clark Productions), as producer of music shows including the American Music Awards, Billboard Music Awards, New Year's Rockin' Eve and Academy of Country Music Awards, would ever intentionally compromise the success of any artist is defamatory, outrageous and frankly absurd."
The statement continued with praise for Mariah, "We want to be clear that we have the utmost respect for Ms. Carey as an artist and acknowledge her tremendous accomplishments in the industry."
Who's to blame — Mariah or the production company? Sound off below!