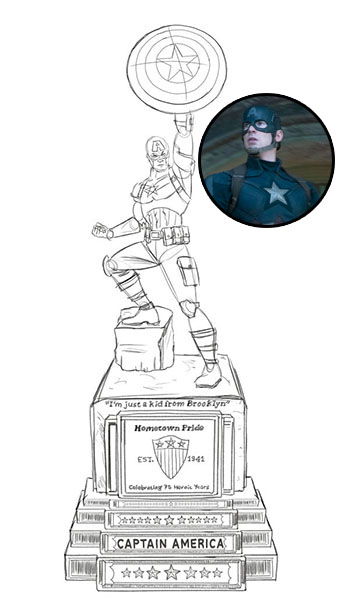 Captain America can now literally "do this all day."
To commemorate Captain America's 75th anniversary, Disney and Marvel will unveil a 13-foot bronze statue of Cap at this year's Comic-Con in San Diego. The statue will then head to a permanent location, settling in Brooklyn's Prospect Park, a fitting location since Captain America, in Marvel's Cinematic Universe, is from Brooklyn.
The inscription will read, "I'm just a kid from Brooklyn," which is a line from 2011's Captain America: The First Avenger.
Comic-Con runs from July 21 to 24 at the San Diego Convention Center. There's also a preview night July 20.
If you'd like to own a piece of Captain America history, Comicave studios will be selling smaller replicas of the statue.
Comic fans have been quick to point out that Captain America comics clearly state that Steve Rogers (the captain's real name) was born in Manhattan's Lower East Side.
How do you feel about this statue? Should it be in Brooklyn or the Lower East Side? Tell us in the comments ~ Yanis Khamsi