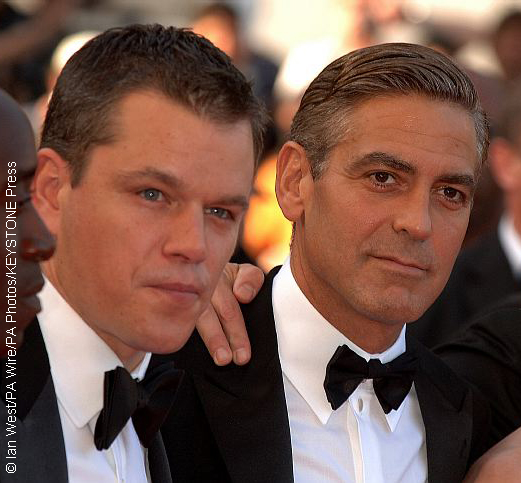 Some of Hollywood's top actors are throwing their voices into the mix after recent revelations about Miramax heavyweight Harvey Weinstein's predatory behavior with women in the industry.
A-listers George Clooney and Matt Damon hit up Good Morning America to promote their upcoming film Suburbicon, which opens in theaters this Friday. During the interview they both commented on what they knew about Weinstein.
Matt admitted he knew of Gwyneth Paltrow's run-in with Weinstein, whom she accused of harassing her, and said that in his opinion, Weinstein was every bit the jerk people knew him to be, revealing, "You had to spend five minutes with him to know he was a bully, he was intimidating. That was his legend. That was his whole M.O. When people say everybody knew, yeah, I knew that he was an asshole. He was proud of that. That's how he carried himself. I knew he was a womanizer. I wouldn't want to be married to the guy, but that's not my business, really. But this level of criminal sexual predation is not something that I ever thought was going on. Absolutely not."
Matt faced recent backlash for professionally vouching for a Weinstein Miramax associate — Fabrizio Lombardo — in 2004 to a reporter who was about to expose both Lombardo and Weinstein. The reporter found Lombardo, who was the Miramax head in Italy, also procured women for the movie mogul, but softened her story after getting calls from Matt Damon and Russell Crowe, who detailed their positive professional interactions with Lombardo, whom Matt had worked with on The Talented Mr. Ripley (1999).
Matt continued to assert he knew nothing about the extent of Weinstein's sexual misconduct, saying Weinstein "didn't do it out in the open." He apologized if he did miss anything, saying, "If there was ever an event or something that I was at, in public with Harvey, and he was doing this kind of thing and I missed it? And there's some woman who was somehow assaulted, and it was at the Golden Globes, and I somehow missed it? Then I'm sorry."
George Clooney also claimed he was in the dark about Weinstein's true nature. He recounted that Weinstein had told him about affairs he had with women in Hollywood, but that he never really believed him: "I didn't really think that they were going to have affairs with Harvey, quite honestly. And clearly they didn't."
He continued by stating his anger at the fact that Weinstein was allowed to behave like this for so long: "But the idea that this predator, this assaulter was out there silencing women like that, it's beyond infuriating. There has to be a comeuppance for all of this. All of the people who are part of that chain. We have to make it safe for people to feel that they can talk about this. And in doing that, I think that'll scare away that kind of behavior."
Trying to find the positive in the situation, George spoke about how he hopes having so much attention on the issue will help to make it easier for those affected to talk about it and make it more difficult for perpetrators like Weinstein to carry on. ~Alexa Caruso