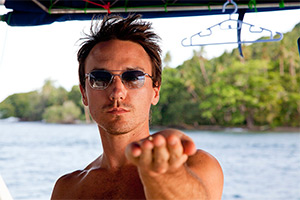 You can meet award-winning director Rob Stewart this weekend in Vancouver! He'll be making personal appearances at the Vancouver International Film Festival and at Capilano College to talk about his new film, Revolution, and his newly published book, Save the Humans.
To hear Rob speak at Capilano College on Friday, October 5 at 7:30 p.m., you can get tickets by clicking here. To see Revolution, which just won Best Documentary at the Atlantic Film Festival and was a Best Documentary runner up at the Toronto International Film Festival and to take part in a Q&A with Rob after the screenings on Saturday October 6, Empire Granville at 6:15 p.m. and Sunday October 7, Empire Granville at 12:45 p.m., please click here. Rob's first movie, Sharkwater, which featured Vancouver's own Patrick Moore and Paul Watson, met with great acclaim when it premiered at TIFF in 2006.
To buy tickets to the VIFF screenings of Revolution on October 6, 7 or 10, please click here.
For more details visit www.therevolutionmovie.com