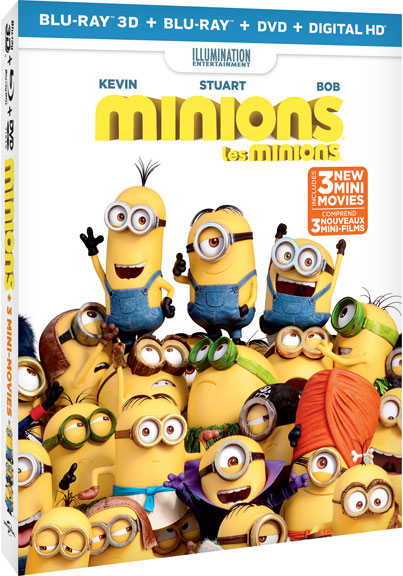 The Minions were pretty adorable in the Despicable Me movies, and deservedly earned their own movie with Minions. In this one, we see their origins, starting as little guppies swimming in the ocean. They go on to land, where they enjoy serving evil masters, such as Dracula and Napoleon, only to be aghast when they accidentally cause their demise. With no one to serve, the Minions are at a loss. Three Minions – Kevin, Stuart and Bob – offer to go out and find a new master.
They travel to New York, where they find out about Villain-Con, taking place in Orlando. Travelling there, they meet up with Scarlet Overkill (Sandra Bullock), the most evil of them all. The Minions are of course, completely inept at being evil, but through a series of misunderstandings, they manage to impress Scarlet, who takes them on and assigns them the task of stealing the British Queen's crown.
In this movie, we get to know the Minions' personalities, especially those of the three leads and they are as adorable as ever. Their gibberish even seems to be somewhat intelligible at times. The plot is cartoonish, so even the "evil" likely won't frighten small children, and there are plenty of jokes for the adults to enjoy as well.
There are a number of Special Features in the Combo Pack, including three Mini-Movies. One gives an inside look into the "evil" family that gives the Minions a lift to Orlando, while the other two focus on the Minions. There's also Jingle Bells Minion Style, in which the Minions single Jingle Bells in what seems to be complete jibberish, until it's repeated as a Sing-Along, with the words running underneath, and as it turns out, what they're singing is completely hilarious. Also included is an Interactive Around the World map in which you can explore where the Minions have been around the globe and what they were doing there; a featurette titled Behind the Goggles – the Illumination Story of the Minions and a deleted scene titled Me, Myself and Stuart.
A copy of this Combo Pack and a Talking, Tumblin' Stuart are one of our upcoming 12 Days of Christmas Giveaway prizes, so make sure to check every day to enter for great Christmas prizes. ~Alexandra Heilbron