Mission: Impossible – Fallout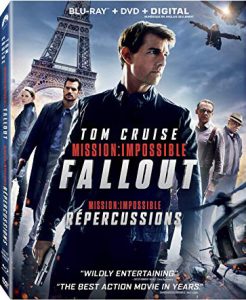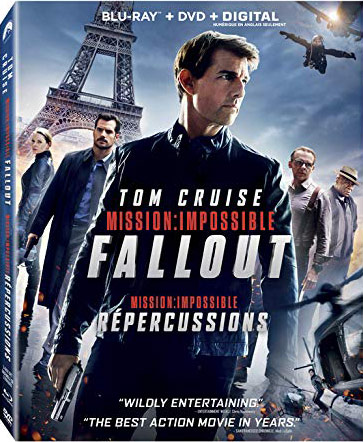 was a hit with both critics and audiences when it released to theaters earlier this year. It's currently the sixth highest grossing movie domestically of 2018, having earned over $220 million.
Most agree it's the best Mission: Impossible to date, not just because of the widely publicized stunts by Tom Cruise, but because it's got an intriguing, exciting storyline, with a lot of twists.
Joining Tom Cruise this time around are regulars Simon Pegg as Benji, Rebecca Ferguson as Ilsa and Ving Rhames as Luther, with newcomers Henry Cavill as August Walker and a deliciously saucy Vanessa Kirby as The White Widow.
Now available on Blu-ray, Digital and DVD, Mission: Impossible – Fallout comes with a wide range of Special Features.
In The Making of Mission: Impossible – Behind the Fallout, we hear from Tom Cruise, director Christopher McQuarrie, Michelle Monaghan, Simon Pegg, Henry Cavill, Ving Rhames and Stunt Coordinator Wade Eastwood. Cruise talks about bringing the cast together, while McQuarrie reveals that when Cruise asked him back for another Mission: Impossible movie, he was determined not to have it look like a continuation of the last one, describing how he worked with the cinematographer to make sure it looked completely different.
As for the stunts, we go behind-the-scenes to see how they were executed. We witness the stunt in which Cruise runs across the roof of a building and then jumps to another building (with a safety harness, thankfully), crashes into it and breaks his ankle in the process, and after pulling himself up and running past the camera while limping, he asked the cameraperson, "Did you get it?" They did, and that's the shot that wound up in the film.
Cruise is the first actor to ever have done a HALO jump on camera. It's a "High Altitude Low Open"  parachute jump and it's the one in which he jumps from a large aircraft, towards the beginning of the film. Cruise had to qualify to do a solo jump with air tunnel training and by doing smaller jumps at first before tackling the HALO jump. Along with him were skydivers carrying cameras and safety divers in case anything went wrong, such as a diver suffering from hypoxia (lack of oxygen) or decompression sickness. In addition to doing the nerve-wracking jump, Cruise also had to make sure to jump in sync with a cameraman who jumped backwards, in order to film him, and then Cruise had to make sure he was within three feet of the camera at all times during the fall. It's incredible to watch the process.
Another mind-blowing stunt is the motorcycle chase through Paris. The city of Paris was very accommodating, allowing production to film around major tourist attractions such as the Arc de Triomphe, even closing the area during the shoot. Cruise doesn't wear a helmet, and basically "free rides" through Paris, across cobblestones and wet streets. He reveals that the tires were changed for him depending on the conditions, but the fact is, he was actually going at top speeds, weaving in and out of cars. Cruise also did much of the car stunt driving, with several other actors inside the car with him and a camera rig mounted on the hood.
However, McQuarrie says the most dangerous stunt was the helicopter stunt in Norway, in which Cruise grabs a rope dangling from a helicopter that's flying away. At the bottom of the rope is a ball of material encased in netting and when Cruise falls, several of the actors watching the stunt gasped, not knowing that the fall was planned — they thought there'd been an accident. However, he lands with a thud on the ball of netting and hangs with his hands from the net.
Other Special Features include a Deleted Scenes Montage with commentary by director Christopher McQuarrie and editor Eddie Hamilton; Foot Chase Musical Breakdown; The Ultimate Mission, which takes a look at locations and compares practical filming versus green screen filming; Storyboards and Theatrical Trailer.
The Blu-ray/DVD Combo comes with a bonus Blu-ray with the Special Features, as well as a glossy, colorful booklet titled Stunts: Raising the Bar, full of photos from the movie, detailing the five biggest stunt sequences in the movie.
Mission: Impossible – Fallout is now available on Blu-ray, DVD and Digital. Click here to watch our exclusive interviews with some of the actors from the film, as well as with CIA agents at the International Spy Museum in Washington, D.C., and go on a tour of the Spy Museum.  ~Alexandra Heilbron