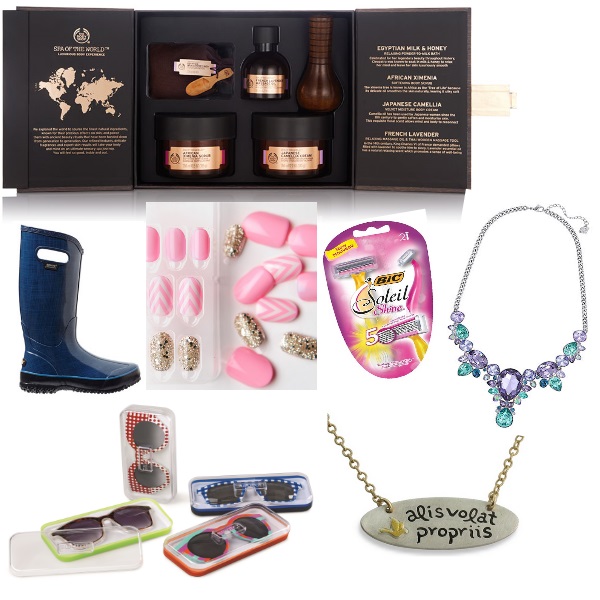 Yes, yes, we know, mothers are the best and no matter what you give her it will never be enough to show her how much you love her. But splurging on a few bling-blings or fancy gift packs just reminds her that you're her favorite child (you can hold that over your siblings). So here are a few suggestions to pamper mom without breaking the bank.
Swarovski
Swarovski's Sea of Sparkle Collection has got us feeling pretty already. There are several pieces that we adore, including the Eglantine Large Necklace, $345 CDN. So how about a little sparkle in mama's life?
BOGS Footwear
The new Spring/Summer collection from BOGS offers a rainbow of rain boots, hiking boots and shoes to choose from. You can also get sandals and flip flops for a stroll on the beach. Now isn't that a treat for mom?
The Body Shop
With The Body Shop's 40th Anniversary, the brand has launched several exciting new collections that will make you feel more grateful for the lovely Spring weather. Their Drops of Light Skincare collection only seems fitting as a must-have for Spring. It includes a pure healthy brightening day cream, healthy brightening serum, pure clarifying face wash and translucence essence lotion. How's that for some liquid Spring goodness? I would also recommend the Spa of the World Luxurious Body Collection, $99 CDN, which has a heavenly list of scrubs and creams that will make mom feel like a goddess.
KISS Nails
The KISS USA imPRESS gel manicure, $6.99 CDN, is all the rave and their new pieces are simply rad. The oval editions, their most recent ones, are available in orange, blue, pink and white with accents, of course. Bling-bling all the way and you're already getting that extra piece of pie.
Isabelle Grace necklace
Isabelle Grace's beautiful handcrafted necklaces and bracelets are just what we need to welcome Spring. I love the "alisvolat propriis" necklace, $72 CDN, which is a Latin phrase meaning "She flies with her own wings." If that doesn't suit your mom's interest, the Sugar Pearls Collection, $98, has a range of beautiful pearls and rhinestone accented beads. Who doesn't love jewelry?
BIC Soleil Shine
The BIC Soleil Shine 5-blade disposable razor for women, $6.23-$9.49 CDN, features five flexible blades that adjust to the contours of the body giving a smooth skin surface. Now mom can flaunt her legs at the beach!
Swatch
Swatch Sunglasses are chic and perfect as we swim into summer. The glasses range from $100-$130 CDN for a pair. The new collection from Swatch includes round, square and winged frames. So whether your mama is a Beyoncé diva or sings her own tunes like Taylor Swift, she's got plenty to choose from.
Happy hunting! Don't forget to enter our Mother's Day giveaway, which is filled with a few extra-special beauty gifts. Click here to enter.