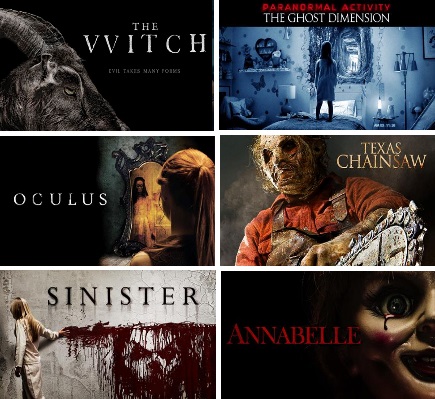 It's my favorite time of the year. No, not Christmas. One of the best things about Halloween, other than dressing up as your friend's worst nightmare, is a sleepover with some of the most heart-thumping, spine-chilling horror movies. I basically live for this day. Diagnosed with horror movie addiction, I can vouch for most of these squeamishly scary movies that you can watch with a few souls, living or dead.
Get Witchy
They love to brew and their potions are just the beginning. So how about a bewitching dose of the bone-chilling The Witch. Also available for streaming is Witching and Bewitching and The Lords of Salem.
Slasher FTW
Slasher films are the real deal. For all those of you who don't have a stomach of steel, steer clear of these hard core options. First up is Texas Chainsaw, which continues 20 years after the original Texas Chainsaw Massacre film ended. Yup, this gets gory. Another horror worth the watch is You're Next. A family getaway goes horribly wrong when a group of mysterious killers stalk the family.
Sinister is a movie I would recommend because of the interesting story line. A crime novelist moves his family into a house where an entire family was once murdered. Why? Well, he's writing a book, of course. But his research into the history of the house soon gets his family into trouble as a supernatural entity haunts them.
One horror movie that didn't  get a lot of buzz, but that I really enjoyed, was Hush. A deaf author lives by herself in a small cottage in the woods. A creepy man in a mask has been watching her and soon gets into an intense cat-and-mouse game with her. And lastly, #Horror is a tale of a bunch of rich high school girls who play a social network game that doesn't work out too well for them. Hence, hashtag horror.

Scream-like-a-girl flicks
There are some skin-crawling flicks that are sure to leave you sleepless. In Oculus, when the parents of two kids are brutally murdered, the son is charged for their murders. Ten years later, the boy is released from a mental institution and wants to move on with his life, but his sister insists on going back to the house to clear his name. A mirror is the reason, she believes, for all the horror. You'll have to watch to find out what happens.
You know how some of you loved your collection of dolls when you were a kid? Well, after watching this one you might just burn those wonderful childhood collectibles. Annabelle tells a haunting story of a possessed doll that attacks a family. I really enjoyed this one — I know, I need a sanity check.
Of course, our list is not complete without mention of the Paranormal movies. So how about some unhealthy viewing of Paranormal Activity: The Ghost Dimension? I'd also suggest less terrifying movies like Poltergeist and It Follows for those who wish to enjoy a bit of scare.
These are just some of the many blood-curdling horror films you can feast on this Halloween. You're welcome.
Have a spooky Halloween!
~Marriska Fernandes