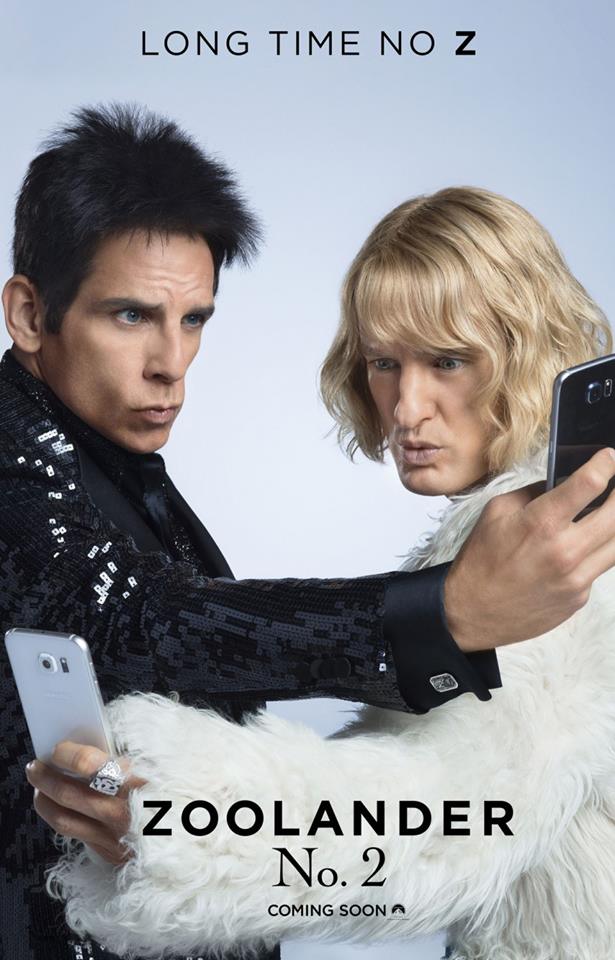 Valentine's Day is on Sunday. That statement will become funnier to you when you take a look at the new movies releasing in theaters today.
First up, you can go see Ben Stiller blue steel his face off in the sequel Zoolander 2. Or maybe your romantic juices will start flowing when you watch Ryan Reynolds slice up some villains, while cracking one-liners, in the action comedy Deadpool. We don't judge.
Feeling a little less than romantic? Cue Beyoncé, and call up your pal(s), your mom, your dad, or, screw societal pressure, yourself, and go see the (perfectly timed) comedy How to Be Single. Admittedly, the horror comedy Nina Forever might be actually suitable for a semi-traditional, romantic date night. Suicides, bloody ghosts and exorcisms aside, it does have a love story at the center of it.
Valentine's isn't the only corporate holiday destroying any and all chances of your getting a reservation at The Keg this weekend — Family Day is on also Monday. Long weekend, y'all! The animated feature Snowtime! might just make for the perfect family outing instead.
So we've got Valentine's Day and Family Day covered. What about something almost completely unrelated? Check out the Icelandic film Rams about two sheepherder brothers brought together by strife.~Shelby Morton
Fifteen years after the first Zoolander, the comedy sequel Zoolander 2, opening wide across Canada, has Ben Stiller back as Derek Zoolander and Owen Wilson as his sidekick Hansel McDonald. Once the world's hottest male models, Derek and Hansel are now the laughing stock of the fashion industry. They're officially washed up has-beens — until Interpol agent Montana Grosso (Penélope Cruz) contacts them to help her track down a criminal mastermind who is murdering the world's most beautiful people. Click here for showtimes.
Trailer: Zoolander 2
Ryan Reynolds is mercenary Wade Wilson turned wise-cracking antihero in the action comedy Deadpool, in theaters across Canada. Deadpool explores Wade's origin story as he is diagnosed with a terminal form of cancer, undergoes an experimental "cure" by a secret organization and is left for dead. Instead, he escapes and finds himself with accelerated healing powers and super strength. Armed with his new abilities, Wade adopts the alter ego Deadpool and now must find the man who destroyed his life — and kidnapped his girlfriend.  Click here for showtimes.
Trailer: Deadpool
Based on the novel of the same name by Liz Tuccillo and opening wide today, How to Be Single follows recently single Alice (Dakota Johnson) who's finding the modern dating scene — apps, social media and texting — isn't as easy to navigate as she thought it would be. Her hard-partying friend Robin (Rebel Wilson) takes Alice under her wing to show her just how easy and fun it is to be a single girl in New York City. Click here for showtimes.
Trailer: How to Be Single
A group of small-town kids on their winter break decide to start a snowball war in the animated feature Snowtime!. Luke and new girl Sophie are the leaders of the two opposing teams, with the winning side taking complete ownership of the coveted snow fort. The snowball fight commences, and what starts out as an innocent game quickly turns into serious conflict that ultimately teaches each child the meaning of competition — and friendship. Snowtime! opens in theaters across Canada today. Click here for showtimes.
Trailer: Snowtime!
Nina Forever is a British horror comedy that opens in Toronto, Vancouver, Halifax and on VOD and iTunes today. Rob is devastated (and suicidal) after his girlfriend, Nina, dies in a tragic car accident. He meets Holly, a co-worker, who finally helps him to heal, and eventually, the two fall in love. Things get complicated when a bloody and very-dead Nina suddenly reappears to mock the new couple every time they make love. Rob and Holly must somehow help Nina find peace so she can move on and transition into the afterlife. Click here for showtimes.
Trailer: Nina Forever
Veteran sheepherders and brothers Gummi and Kiddi live beside each other deep in a secluded valley in Iceland, each caring for an ancestral flock of rams, nationally renowned for their high quality wool and ancient lineage. The two work side by side, herding their drove, sharing the land, despite not having spoken to each other in 40 years. They are devastated when a dangerous disease infects Kiddi's sheep and the authorities are looking to cull all the animals, including Gummi's, to contain the outbreak. The brothers are forced to reconnect to save their beloved breed from extinction in the critically acclaimed Icelandic drama Rams, which opens in Toronto today and Montreal on Feb. 26. Click here for showtimes.
Trailer: Rams